Facts matter:
Sign up
for the free
Mother Jones Daily
newsletter.
Support
our nonprofit reporting.
Subscribe
to our print magazine.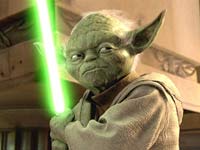 Noam Scheiber highlights the familiar locution of a recent Sarah Palin sentence:
"But not me personally were those cheers for."
I always felt like the woman was something out of fiction. Turns out, she's Yoda.