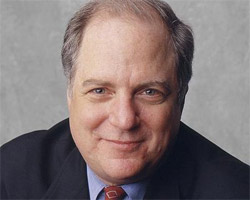 Fight disinformation:
Sign up
for the free
Mother Jones Daily
newsletter and follow the news that matters.
New York Times opinion columnist and former theater critic Frank Rich is famous for panning two things: Cats and the Bush administration. The famously lavish musical ended its epic Broadway run in 2000; soon, the curtains will close on the notorious presidency of George W., as well. Will Rich (who used to be known as "the Butcher of Broadway") miss skewering Bush? "Not really," he says, though the rest of us may miss reading those barbs. Since he made the switch from the theater section to the op-ed page in 1994, Rich has distinguished himself as a keen observer of the theater of government—and the way in which entertainment and politics become increasingly intertwined. When we spoke a day before the election, and again a few days afterward, Rich riffed on George W. Bush's illustrious acting career, the lack of conservative plays, and why critics of all kinds should wait until something actually happens during the next presidency before they begin to butcher it.
Mother Jones: As a columnist, you're still a tastemaker, but not in quite the same make-or-break way that you were as "the Butcher of Broadway." Do you miss having that sense of power?
Frank Rich: I don't miss that at all, and I never liked it when I was in that job. It was always exaggerated. I couldn't turn Cats into a failure. I didn't particularly like The Phantom of the Opera, and it's still running more than 20 years after I reviewed it. To me, the fun part of both jobs is to always try to push the discussion and debate forward in some way. The most fun part of being a theater critic for the Times was always to try and champion something that maybe other people didn't like, or that was produced under obscure circumstances or had to fight for its life. And I would say in the column what I try to do is in some ways related in that I'm trying to fight for a point of view. I'm not trying to be a kingmaker in either job, and don't want to be, and shouldn't be.
MJ: In your opinion, who is the best actor of our current crop of politicians?
FR: I would say far and away that the best has been George W. Bush. Here is a patrician guy who was educated at Andover, Yale, and Harvard, who managed to pass himself off to a lot of Americans for a long time as sort of a shit kicker. And I think that it's a different thing entirely, but in this last campaign, there was no question that Obama was a master of stagecraft. I'm not sure that he's acting a role in the way Bush did, but certainly everyone has seen his ability to stage events from rallies to gimmicks like the ill-fated faux-presidential seal. It behooves us to look at anyone in power who marshals theater and the mass media very carefully, to make sure that the message is not far adrift from reality.
MJ: I recently read an article in the Times about the lack of conservative plays.
FR: Yeah, it's an interesting piece. One exception, and this person was interviewed for that piece, is actually someone I've known for years, Jonathan Reynolds, who is a very good writer. I love his work. He's very conservative politically. The truth is that a lot of plays aren't political at all. In American theater history, political theater has tended to crop up when there's a crisis, a national crisis. So it happened during the Depression, and it happened again at the height of the civil rights movement, then it happened when I was in high school and college during the Vietnam War, and it happened when I was drama critic in the tail end, in my last four or five years in that job because of the AIDS crisis. Now there have been a bunch of plays about Iraq, but if the political climate calms down, it'll evaporate. That's just the history of the theater in America. It ebbs and flows according to the political crisis.
MJ: You've recently signed on as a consultant at HBO. It's funny because you often look at politics through the lens of pop culture. Wouldn't this sort of be like looking at pop culture through the lens of politics through the lens of pop culture?
FR: Wait a minute, that's kind of Kafkaesque! Much of the stuff that I've been involved with with HBO—and one of the reasons I enjoying doing it—has nothing to do with the column, or with politics. It has to do with pure fiction. It's actually kind of an escape to sit and watch True Blood. I guess you could make parallels between bloodsuckers and politicians, but what's great about it for me is that it's pure escape. I still love the theater; I always loved the theater. I got very tired of reviewing after 20 years of doing first film and TV criticism and then theater criticism. But to be able to be involved in the creative process has been kind of exhilarating. I use a completely different part of my brain.
MJ: What's your favorite TV show right now?
FR: I like a lot of TV shows. If I say anything from HBO it'll be suspect, so I'll leave HBO out of it. Like many people, I'm a big fan of Stewart and Colbert. But there's a lot of stuff that's good: The Office, 30 Rock. I'm a pretty diverse television watcher.
MJ: How much TV would you say you watch every week?
FR: Probably between four and ten hours. Sometimes more, sometimes a little less.
MJ: You've written about how the government spun the Iraq War and sold it to Americans. Do you think that will change the way that future wars are marketed to us?
FR: Well, I think it might. The fact is that this country was sold two fictional story lines that were used to gin up this war. One was a completely nonexistent connection between 9/11 and Iraq. And the other was not just weapons of mass destruction in the broadest sense, but specifically nuclear weapons of mass destruction that Saddam Hussein was supposed to have, but that did not exist. Another example: In the late 1990s when there was the big e-bubble, the dot-com bubble, a lot of people were mesmerized by cable news business channels full of experts plugging various e-stocks, all of which, or almost all of which, would ultimately collapse. But here we are roughly a decade later, and what happened? People again became mesmerized by a constantly rising stock market and invested money, in some cases money they didn't have, in financial instruments that ultimately would crash. So if that history can repeat itself so quickly, it does give you pause and make you think whether another phony war scenario could be sold sooner than we think.
MJ: What kind of spin should we be especially vigilant about going into the Obama administration?
FR: I think we really have to wait and let news happen. We're at the point now where everything the president elect does is wildly overscrutinized. He made that very innocuous remark about Nancy Reagan in his press conference, and it's played in the New York Post as his "first major gaffe." That's a major gaffe?
MJ: So what should we watch for in Obama's first few months as president?
FR: This is a country in crisis on several fronts—two war fronts as well as the economic front. So the pressure is going to be on him to deliver policies that are serious efforts to address the messes left behind by the Bush administration. And there are so many messes, beyond the leading one. We have to hope that all this organization and coolness under pressure and meticulousness that seemed to be part of Obama running his campaign continue. But we don't know, as Joe Biden said, whether there'll be some crisis to test him. So we're looking obviously for all the policy questions and also to see what kind of manager he is going to be in a crisis situation. Also I think it's very important that this administration has a level of transparency, including cooperation with the press, which has not been a hallmark of the Bush administration or many recent presidencies.
MJ: There are some good signs on that front. I heard that Obama wants to put government documents online.
FR: He ran a campaign where he really gave the tools and the information to his supporters in a way that allowed them to own the campaign and encouraged them to be active in that campaign. But it also was good for democracy. And obviously within limits of intelligence information, I hope this will be a standard that he will keep to. But it also means he has to be forthcoming to the press. And there his record has been mixed so far.
MJ: It almost feels to me like no one wants to rain on the Obama parade right now.
FR: That to me is not an issue. If Obama needs to be criticized, I will criticize him. There's a tremendous amount of excitement about him. And a corollary of that is, as we're learning, from newspapers and magazines that are going into overdrive reprinting Obama editions, etc. He's money in the bank, at least right now, as—dare we say it—a celebrity. Every health magazine, every fashion magazine; it's really amazing. As a kid in Washington, I remember Kennedy coming in, and this is reminiscent. What was reminiscent had nothing to do with Obama being black and Kennedy being Catholic, or a Democrat coming in after two terms of a Republican, but it really has to do with a generational change. I remember so vividly when Kennedy came in—I was 10. I could see—oh my God—this guy is so much younger than the current president, who is playing golf all the time. And I think that's part of it, too. Not that Bush was old, but he was older, and it's a real change. It's really interesting. I think a lot of the country is still adjusting to his victory. I was really confident it would happen, but people on both sides are still getting used to the fact that it happened.
Correction appended: An earlier version of this story incorrectly stated that Frank Rich moved to the op-ed page in 2005. We regret the error.