Facts matter:
Sign up
for the free
Mother Jones Daily
newsletter.
Support
our nonprofit reporting.
Subscribe
to our print magazine.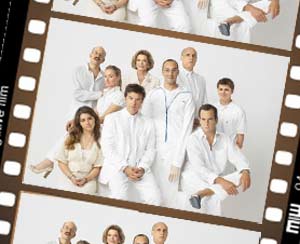 So much good news! Obama wins, and now this—can the discovery that donuts are good for you be far behind? Some website called Collider.com has video of Jeffrey Tambor saying that an Arrested Development movie "is a go." Eeee! The details are sketchy but Tambor seems pretty confident, claiming that "when the writer and the director calls you it's a pretty good sign." Also, last night Keith Olbermann reported that David Cross has also confirmed he got the same call. It all seems so real, but maybe this is just a bunch of fake mini-actors meant to fool Japanese investors?
After the jump: the long, Bluthian saga
The unassailably hilarious series had a legendary struggle with ratings and its network, Fox, which added insult to injury by broadcasting the show's final four episodes opposite the Winter Olympics opening ceremony in 2006. Rumors swirled (fueled by the show itself) that the series might continue on HBO or Showtime, but series creator Mitch Hurwitz seemed to give up the fight later that year, and the show appeared to be over for good. Of course, the last moments of the series finale featured producer Ron Howard (as himself) saying, in another self-referential moment, that Maeby's proposed series might work "as a movie," but that has been a roller-coaster ride as well. Earlier this year, some former cast members started dropping hints that a film might be in the works, but then Michael Cera seemed to put the kibosh on the idea in September. Sheesh, stop toying with us, Bluths! I'm going to have to go have a frozen banana and calm down. More updates as they become available…