Fight disinformation:
Sign up
for the free
Mother Jones Daily
newsletter and follow the news that matters.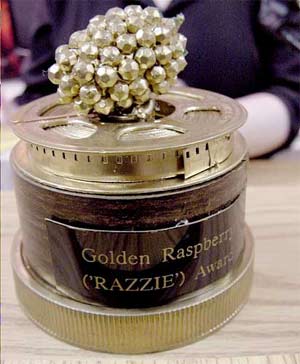 How awesome are the Golden Raspberry Awards? They're like the conscience of Hollywood, with a healthy dose of alliterative, sarcastic wit thrown in. The Razzies have been awarded every year since 1980, and this year's nominations are out now, complete with a press release that compares the "plethora of putrid motion pictures" coming from Hollywood to the "disastrous" economic downturn. It helps to imagine the voice of Snagglepuss reading it. The Love Guru was the most-honored film this year, with seven total nominations; other "Worst Picture" nods include Disaster Movie, The Happening, The Hottie and the Nottie, Meet the Spartans and In the Name of the King. Uwe Boll, referred to as "Germany's answer to Ed Wood," will receive a special Worst Career Achievement award. Much deserved.
These Razzies are to be given out at a ceremony February 21 (the day before the Oscars, naturally), and you know, some people have actually turned up to accept their awards in the past: Tom Green, Tom Selleck, Halle Berry and Bill Cosby have all made appearances. If they had a blog version, or a mash-up Razzies, I would totally go. The full list of nominees is after the jump.
WORST PICTURE
Disaster Movie
The Happening
The Hottie and the Nottie
In the Name of the King: A Dungeon Siege Tale
The Love Guru
Meet the Spartans

WORST ACTOR
Larry the Cable Guy, Witless Protection
Eddie Murphy, Meet Dave
Mike Myers, The Love Guru
Al Pacino, 88 Minutes and Righteous Kill
Mark Wahlberg, The Happening and Max Payne
WORST ACTRESS
Jessica Alba, The Eye and The Love Guru
The cast of The Women (Annette Bening, Eva Mendes, Debra Messing, Jada Pinkett-Smith and Meg Ryan)
Cameron Diaz, What Happens in Vegas
Paris Hilton, The Hottie and the Nottie
Kate Hudson, Fools' Gold and My Best Friend's Girl
WORST SUPPORTING ACTOR
Uwe Boll (as himself), Uwe Boll's Postal
Pierce Brosnan, Mamma Mia!
Ben Kingsley, The Love Guru and The Wackness
Burt Reynolds, Deal and In the Name of the King: A Dungeon Siege Tale
Verne Troyer, The Love Guru and Uwe Boll's Postal

WORST SUPPORTING ACTRESS
Carmen Electra, Disaster Movie and Meet the Spartans
Paris Hilton, Repo: The Genetic Opera
Kim Kardashian, Disaster Movie
Jenny McCarthy, Witless Protection
Leelee Sobieski, 88 Minutes and In the Name of the King: A Dungeon Siege Tale
WORST SCREEN COUPLE
Uwe Boll and Any Actor, Camera or Screenplay
Cameron Diaz and Ashton Kutcher, What Happens in Vegas
Paris Hilton and either Christin Lakin or Joel David Moore, The Hottie and the Nottie
Larry the Cable Guy and Jenny McCarthy, Witless Protection
Eddie Murphy and Eddie Murphy, Meet Dave
WORST PREQUEL, REMAKE, RIP-OFF OR SEQUEL
The Day the Earth Blowed Up Real Good
Disaster Movie and Meet the Spartans
Indiana Jones and the Kingdom of the Crystal Skull
Speed Racer
Star Wars: The Clone Wars

WORST DIRECTOR
Uwe Boll, 1968: Tunnel Rats, In the Name of the King: A Dungeon Siege Tale and Uwe Boll's Postal
Jason Friedberg and Aaron Seltzer, Disaster Movie and Meet the Spartans
Tom Putnam, The Hottie and the Nottie
Marco Schnabel, The Love Guru
M. Night Shyamalan, The Happening
WORST SCREENPLAY
Disaster Movie and Meet the Spartans
The Happening
The Hottie and the Nottie
In the Name of the King: A Dungeon Siege Tale
The Love Guru
WORST CAREER ACHIEVEMENT
Uwe Boll