Fight disinformation:
Sign up
for the free
Mother Jones Daily
newsletter and follow the news that matters.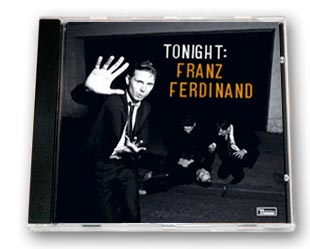 One of the first maxims of good criticism is also one of the toughest to maintain: review the work based on what it is rather than what it isn't. Sure, it sounds simple, but then you get an album like Scots Franz Ferdinand's third full-length, Tonight: Franz Ferdinand, and you can't help but want to flog it for not being their wry, catchy, Mercury Prize-winning 2004 debut. Do more "Matinees," dammit! Instead, the quartet have mostly abandoned the guitar-blasted riff-gasms of their past for spare, quirky disco and new wave, and if I focus really hard on ignoring their past, it's actually not so bad, I guess.
Lead single "Ulysses" (watch the video below) has been hanging around the radio for a little while now, and that's the song that has been the hardest to separate from the band's past, since it basically sounds like "Take Me Out" beaten up with a Moog and forced to make out with Greg Kihn's "Jeopardy." The album gets it out of the way on Track 1, then switches to some more interesting sounds: the minimal post-punk of "Turn It On," the deadpan disco of "No You Girls," the silly swing of "Send Him Away." They're fine, especially "Turn It On," but none of them have enough of a hook to make a lasting impression. "Live Alone" starts off promisingly, like a homemade, lo-fi version of the Bee Gees "You Should Be Dancing," but never goes anywhere. It's hard to shake the impression that this album is a pale imitation of another, better one.
Perhaps other reviewers are better at staying "in the moment" and letting go of the past. The Fly calls Tonight the band's best album, "a dark, dancefloor art-pop neo-classic," saying that its stripped-down production makes every element seem "vital." But most reviews seem disappointed: somebody at Stereogum HQ said the album should have been named after Track 6, "Bite Hard" (ouch!) and Uncut calls it "emotionally plastic" and "contained," although they do give it 3/5 stars. I know it's unfair, but when you've got the unrestrained genius of "Take Me Out" hanging over your head, we critics can't help but wonder where the good songs went.
Tonight: Franz Ferdinand is out January 26 on Domino.
"Ulysses"