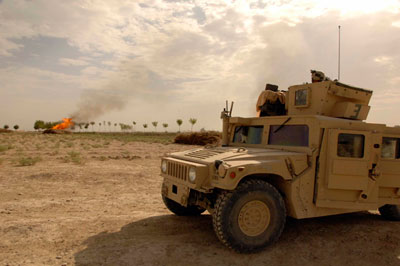 Fight disinformation:
Sign up
for the free
Mother Jones Daily
newsletter and follow the news that matters.
This morning, after President Barack Obama unveiled his new Afghanistan policy, three senior administration officials held an on-the-record (but no cameras) briefing for White House reporters. Ambassador Richard Holbrooke, the special envoy for Afghanistan and Pakistan, Bruce Riedel, chair of the Afghanistan policy review, and Michèle Flournoy, undersecretary of defense for policy, hammered home the points that Obama had made: that this policy has a concise and clear goal (protecting Americans from al Qaeda by making sure this terrorist band does not have any safe havens in Afghanistan or Pakistan), that it has a regional focus (Afghanistan and Pakistan), and that it has a strong civilian component (i.e., sending not just more troops, but more advisers to work on development and related matters). They did not talk timelines, deadlines, costs, or exit strategies. They did repeatedly refer to benchmarks and flexibility.
I asked if this review had addressed Obama's previous complaint that the national government in Afghanistan is "detached" from the rest of the country and whether any of the development envisioned by the review could be accomplished given the widespread and profound corruption in Afghanistan. Holbrooke fielded this one:
I would just point you to the fact that no American chief executive has spoken about corruption this way ever before in open. Isn't that a fair statement, Bruce? And on the way out, a former Assistant Secretary of State, who many of you know, but I better not give his name, since he isn't…said to me, I've been waiting six years to hear a speech like that, and the emphasis on corruption is essential. You've all been reporting it for years. We view it as a cancer eating away at the country and it has to be dealt with. And obviously we're not going to lay out how we're going to deal with it. To some extent, we don't know yet. There's so much dispute about it. Senators have talked about it, including senators who are now President, Vice President and Secretary of State. And they bring what they said as senators to this issue.
And speaking for myself, I've written about it a lot. I don't take back anything I ever wrote as a private citizen. Now we've been offered the extraordinary challenge of trying to deal with this problem. And we're here to say, it is at the highest levels. Why? This isn't baksheesh. We've got to make a distinction between ordinary problems that happen in every society. This is massive efforts that undermine the government. President Karzai himself has said this, and we need to work on this. It's a huge recruiting draw—excuse me, huge recruiting opportunity for the Taliban. It's one of their major things they exploit. But I can't lay out to you how exactly we're going to do this. We're just starting out. And by the way, we're in the middle of an election campaign in Afghanistan, which complicates everything enormously.
So here Holbrooke was acknowledging the significance of the corruption issue, somewhat eloquently and candidly, yet he could not say how it might be addressed. As for Karzai's government being "detached," he didn't go there.
Holbrooke is a wonderfully engaging character—an old-school power player. He schmoozes reporters, coming across as intelligent, crafty, and concerned. He is a charmer who knows his stuff. He won't no-comment a tough question; he will compliment the reporter on posing an insightful query, show he fully understands the issue at hand (which he does), and then explain he can't answer it—in a manner that can be convincing, not annoying.
But at the end of the briefing, Holbrooke did speak somewhat candidly about a vexing part of the Afghanistan problem: drugs. What to do about the opium flowing out of Afghanistan has always been a knotty element of US policy regarding Afghanistan. How much of a priority should it be? (Simply put, if you attack the the opium trade, warlords and locals get pissed off and join or support the other side.) Asked about the priority of drug fighting in the Afghanistan review, Holbrooke, as he was leaving the briefing, said "We're going to have to rethink the drug problem." That was interesting. He went on: "a complete rethink." He noted that the policymakers who had worked on the Afghanistan review "didn't come to a firm, final conclusion" on the opium question. "It's just so damn complicated," Holbrooke explained. Did that mean that the opium eradication efforts in Afghanistan should be canned? "You can't eliminate the whole eradication program," he exclaimed. But that remark did make it seem that he backed an easing up of some sort. "You have to put more emphasis on the agricultural sector," he added.
For years, officials of the US government and other government have pondered what to do about the poppy fields of Afghanistan. Holbrooke indicated he favors a significant shift in this front of the war on drugs. But what specific policy does he fancy? He offered no clues, and then began talking to several reporters in French. Whatever he was saying, it sounded quite good.