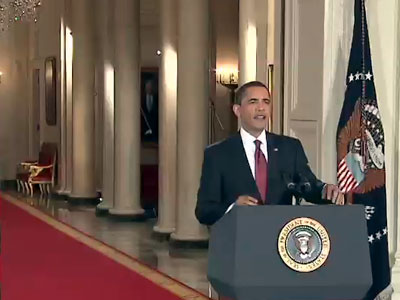 Fight disinformation:
Sign up
for the free
Mother Jones Daily
newsletter and follow the news that matters.
At the second press conference of his two-month-old presidency, Barack Obama sent a clear signal: I'm an establishment progressive, not an angry populist.
Before taking questions from reporters, Obama read a statement—a sort of mini-speech—off a teleprompter and recounted all the economic measures he has put into play: the stimulus package, a mortgage crisis plan, various plans to unclog credit within the financial system (including the toxic assets buy-back program), and his proposed budget. Only after he explained how all this will help the economy recover did he note that was "as angry as anyone" about the bonuses paid to executives of AIG, the bailed-out insurance giant. Obama noted that the bonuses were another "symptom" of the culture of greed that allowed Wall Streeters to bring down the rest of the economy. Corporate executives, he warned, must realize that they cannot enrich "themselves on taxpayer's dime" and engage in "reckless speculation that puts us all at risk." But, he added, the "rest of us can't afford to demonize every investor and entrepreneur."
That seemed a well-crafted mix. But Obama certainly put more energy into explaining—or defending—his economic plans than in bashing the culprits of capitalism. Throughout the press conference, he concentrated on selling his overall economic message: that the country must invest in education, health care, and alternative energy, even as it is overwhelmed by the current mess and faces large deficits and an increasing amount of debt. When CNN's Ed Henry asked Obama why he hadn't displayed more anger about the AIG bonuses and done so sooner, Obama took the occasion to explain why he believes it is now necessary to spend money on health care, energy, and education to prevent further structural problems with the economy. Moments earlier, answering a question from CBS News' Chip Reid about the large projected increases in debt that could result from his proposed budget, the president had said that if the nation does not tackle its challenges on these three particular fronts, "we won't grow 2.6 percent, we won't grow 2.2 percent, we won't grow."
Though Obama has vowed to cut the deficit within a few years, he has refused to yield to the pleas of deficit hawks (including those newly hawkish congressional GOPers) who claim his spending plans are too exorbitant for a country in this much economic trouble. While supporting or concocting various bailouts for the corporate crowd—including that toxic assets plan that could end up a better deal for banks and hedge funds than taxpayers—Obama is also holding firm to the liberal tenet that the nation can invest itself out of its current economic dilemma. This is the left-of-center core of his economic policies, and he declared his commitment to it once more.
Even as he defended his administration's proposal to cut tax deductions for charitable donations made by the well-to-do, Obama showed little interest in playing any populist card. When Associated Press reporter Jennifer Loven asked him about his administration's plan to ask Congress for the authority to seize non-banking financial companies that might collapse and harm the economy, Obama dispassionately explained the need for such powers, pointing to AIG, without slamming the firm. And when Ed Henry pressed him on why it had taken days—yes, days—for Obama to share his exasperation with those AIG bonuses, Obama quickly shot back: "Well, it took a couple of days because I like to know what I'm talking about before I speak." This fellow clearly would rather wield a pointer than a pitchfork.
Obama seemed rather comfortable explicating all his economic positions. Unlike his first press conference, this time he took follow-up questions from reporters. And this time he did not stick to the MSM heavyweights. He gave all the TV guys (cable and broadcast) their turns, but passed over The New York Times, The Washington Post, The Wall Street Journal, Bloomberg, and Reuters, instead bestowing questioning privileges on Politico, Univsion, and Agence France Presse.
The AFP correspondent might have been the only reporter to have
squeezed any news out of Obama. He asked a basic question: what would
Obama do to advance peace in the Middle East, when it's likely the new
Israeli government will soon be led by a prime minister not supportive
of the two-state solution and a foreign minister who has insulted
Arabs? Obama replied, "It's not easier than it was, but I think it's
just as necessary." No doubt, the first half of that reply will be
splashed throughout the media in Israel and Arab countries, and be read
as something of a no-confidence vote in Benjamin Netanyahu.
Obama, though, quickly pivoted from talking about the Middle East to
discussing the progress made in Northern Ireland to noting his belief
in steady striving: "If you are persistent, then these problems can be
dealt with." Without missing a beat, he went on:
That whole philosophy of persistence, by the way, is
one that I'm going to be emphasizing again and again in the months and
years to come, as long as I am in this office. I'm a big believer in
persistence. I think that when it comes to domestic affairs, if we keep
on working at it, if we acknowledge that we make mistakes sometimes and
that we don't always have the right answer, and we're inheriting very
knotty problems, that we can pass health care, we can find better
solutions to our energy challenges, we can teach our children more
effectively, we can deal with a very real budget crisis.
There's a lot of heavy lifting to do, he reminded those watching at
home. Critics, he pointed out, had said that Geithner couldn't come up
with a disposal plan for that toxic financial waste. "Well, all right,
there's a plan," Obama declared. He noted that he had sent a video
message to the Iranian people a few days ago: "And some people said,
'Well, they did not immediately say they were eliminating nuclear
weapons and stop funding terrorism.' Well, we didn't expect that. We
expect that we're going to make steady progress on this front." And,
Obama added, he hasn't yet—in 60 days—eliminated the influence of
lobbyists in Washington or wasteful pork projects.
What counts, he contended, is "that we're moving in the right direction." And he closed with this thought:
We are going to stay with it as long as I'm in this
office, and I think that—you look back four years from now, I think,
hopefully, people will judge that body of work and say, "This is a big
ocean liner. It's not a speedboat. It doesn't turn around immediately.
But we're in a better—better place because of the decisions that we
made.
This ocean liner is carrying a lot of freight. Obama wants to use
government policies (and lots of spending!) to reshape crucial aspects
of American society in a progressive direction. But he has also decided
to rely upon the ways of corporate America (leveraging, hedge funds,
etc.) to save corporate America. And he has calculated that he does not
have to be a fist-pounding firebrand to keep the voting public on his
side, as he navigates all these tough currents. But one question is,
how far can a big ocean liner travel fueled by a "philosophy of
persistence"?