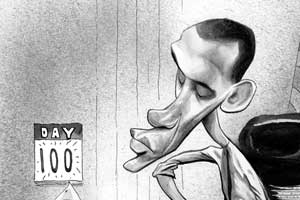 Facts matter:
Sign up
for the free
Mother Jones Daily
newsletter.
Support
our nonprofit reporting.
Subscribe
to our print magazine.
Here's to Obama's 100 Days and our obsession with this arbitrary signifier. This piece for today's LA Times shows Obama's achievements, or those in progress, in the tidy outbox on the right. And Obama and Bo putting everything else to good use.