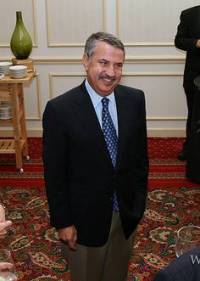 Fight disinformation:
Sign up
for the free
Mother Jones Daily
newsletter and follow the news that matters.
New York Times columnist Thomas Friedman is one of free market capitalism's loudest cheerleaders. The premise goes like this: Developing countries make consumer goods so inexpensively that people in rich countries can afford to buy them and have money left over. Because of all the extra dough, demand for consumer products shoots up and makes third world countries rich. What's good for China is good for America and everyone wins, right? Not quite.
Yesterday morning, another crack appeared in Friedman's the-consumer-always-wins model when one of America's largest shopping mall companies, Chicago-based General Growth Properties, filed for bankruptcy. Friedman's pretty close to GGP's malls; the Bucksbaum family owns them, and Ann Bucksbaum is Tom Friedman's wife.
But despite his connection to one of America's richest families, Friedman has always portrayed himself as a champion for the common man. Yes, high-paying manufacturing jobs were gone from the American Midwest, but look at all the things average Americans can afford with their newfound buying power, he would explain.
But that's not what's happening anymore. Retail stores are closing across the country and mall vacancies are at their highest point in almost a decade, forcing malls to make weird decisions about how to stay afloat, like offering radically inexpensive rents for desired tenants and converting malls into office space.
GGP, which owns prized properties like Ala Moana Center in Honolulu, Water Tower Place in Chicago, and the Grand Canal Shoppes at the Venetian in Las Vegas, has been struggling for some time. Harper's Magazine estimated that last year the Bucksbaum fortune shrank from $3.6 billion to $25 million. And Friedman's brother-in-law, John Bucksbaum, was forced to resign as CEO after an internal audit revealed that the Bucksbaum family trust made private loans to company officers without informing the board of directors.
Friedman has always kept quiet about his relationship to GGP. This is understandable; he's a journalist, after all, and plays no role in the management of the company. But GGP's bankruptcy says something about the way the global economy really works. Friedman's often accused of ignoring that there are both losers and winners in globalization, but now it looks like even his rich in-laws are hurting.