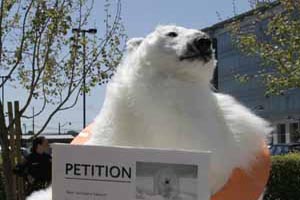 Fight disinformation:
Sign up
for the free
Mother Jones Daily
newsletter and follow the news that matters.
At a University of California San Francisco campus this afternoon, environmentalists made quite the display. People dressed as polar bears (at least 5), sea turtles (4), dolphins (2), jellyfish/coral (2), a kangaroo, and a seal. Two surfer girls in bikini tops walked past, leaving a trail of what looked like crude oil on the cement. ("It's actually chocolate," one confided.) The polar bears and surfer girls mingled in front of the university's conference center in hopes of influencing Deparment of the Interior Secretary Ken Salazar, who was in San Francisco to hear public comment on offshore drilling plans. While Salazar criticized Bush's plan to drill "the entire Eastern seaboard, portions of offshore California and the far eastern Gulf of Mexico with almost no consultation from states, industry or community input," he and Obama are considering expanding existing offshore operations.
At the podium, Salazar received emotional suggestions and comments from the hundreds who packed the hall. Salazar often asked follow-up questions, sometimes uncomfortable ones. Scott Johnson, from CalWind, asked Salazar to consider offshore wind projects, but when asked how much electricity on-shore turbines in California currently generated, Johnson couldn't quote a figure. The goal, Salazar told the crowd, wasn't to favor one form of energy over another. "We need to have a comprehensive energy plan going forward," Salazar said. "We recognize that some of the energy sources we have are necessary to keep the nation going economically." Oil and gas, Salazar said, "have never been off the table" and warned the crowd that "we may not be able to do what's popular."
As the hall cleared for lunch, polar bears and politicians wandered out into the hot sunshine. In front of the Peasant Pie shop, non-profits and activist organizations tended booths and a small stage to further voice their concerns, not all drilling-related. Shay Wolfe, a biologist with the Center for Biological Diversity, was in a polar bear suit, manning the tables. "We've been here since 7:30," she said. Her organization was concerned with offshore drilling, yes, but not perhaps as much as last-minute Bush regulations that "took away the scientific review requirement under the Endangered Species Act." Wolfe said Salazar has until May 9 to revoke those regulations. A San Francisco Baykeeper representative said her group was there to show support for the other environmental groups, but also yes, to say no to drilling. None of the groups brought up economic issues.
As the rally continued, Center for Biological Diversity attorney Miyoko Sakashita and her infant son Kai danced to the music in matching furry white polar bear suits. "I think people can relate to polar bears," said Wolfe. "We hope he [Salazar] got our message… we sent polar bears to greet him."