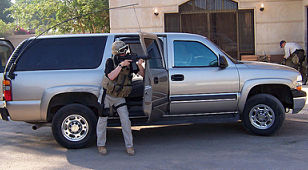 Fight disinformation:
Sign up
for the free
Mother Jones Daily
newsletter and follow the news that matters.
Now that Blackwater (renamed "Xe") has lost its Iraq contract, you might have thought it would recede from the headlines. Almost certainly, that's what the company was hoping, what with the name change and the retirement of its founder and president, Erik Prince. Its controversial work in Iraq built the company from a small-time firearms training range into an international private security heavyweight. But it also came at the cost of the company's reputation, the victim of numerous alledged infractions from gun-running to wholesale murder, and ultimately led to the cancellation of its most lucrative source of revenue. The firm's been positioning itself for new markets, notably in Africa (piracy, anyone?), but what you may not realize is that it remains a player in Afghanistan. And recent events involving its contractors there bear an eerie similarity to some of the firm's most infamous acts in Iraq.
From August Cole at the Wall Street Journal:
Four U.S. contractors affiliated with the company formerly known as Blackwater Worldwide fired on an approaching civilian vehicle in Kabul earlier this month, wounding at least two Afghan civilians, according to the company and the U.S. military.

The off-duty contractors were involved in a car accident around 9 p.m. on May 5 and fired on the approaching vehicle they believed to be a threat, according to the U.S. military. At least some of the men, who were former military personnel, had been drinking alcohol that evening, according to a person familiar with the incident. Off-duty contractors aren't supposed to carry weapons or drink alcohol.

The incident occurred as the U.S. is facing rising outrage from Afghan leaders over civilian casualties from U.S. air strikes. For Xe, which is the name Blackwater chose earlier this year to distance itself from its controversial security work in Iraq, the shooting comes as the Obama administration and Defense Secretary Robert Gates reconsider the role of military contractors, a practice that boomed during the Bush administration.

The contractors were trainers hired by Paravant LLC, a little-known subsidiary of Xe. Paravant has terminated contracts with the four men "for failure to comply with the terms of their contract," according to Xe spokeswoman Anne Tyrrell. "Contractual and or legal violations will not be tolerated," she said.
Photo by flickr user jamesdale10 used under a Creative Commons license.