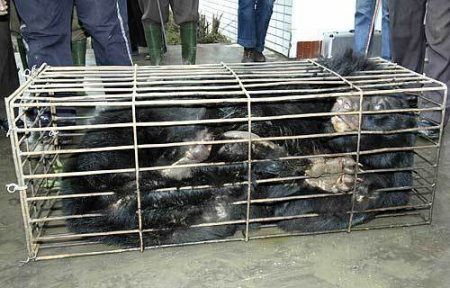 Fight disinformation:
Sign up
for the free
Mother Jones Daily
newsletter and follow the news that matters.
The livestock in Southeast Asia's commercial wildlife farms are rare snakes, turtles, crocodiles, monkeys, tigers, bears, and other threatened wildlife. The "farms" are supposed to be places where rare species are bred in captivity for the purpose of producing meat and wildlife products.
Okay, even from far away, the premise smells bad.
Apparently the farms aren't alleviating pressures on wild populations only making them worse. This according to the Wildlife Conservation Society and Vietnam's Forest Protection Department, who found commercial wildlife farms depleting wildlife and contributing to illegal trade. Worst affected are tigers and bears whose body parts or secretions are valued in traditional medicine.
About 4,000 bears in Vietnam and 7,600 in China are kept inhumanely in crush cages, their bile extracted twice a day through surgically implanted catheters. The bears moan in pain and bite their own paws. The photo tells a thousand grunts.
Why are the bears tortured like this? Because the bile is used as a traditional Chinese medicine—touted as an anti-inflammatory and fever reducer, eyesight improver, protection for the liver and gallstone fixer.
Can't we sell them some aspirin? Seriously, it's gotta be cheaper. Not to mention actually effective.
The farms are supposed to protect wild populations. Instead they're laundering products from animals killed in the wild. Of 78 farms surveyed in Vietnam, 42 percent were regularly bringing in animals from the wild. Half reported their founder populations were taken from the wild or produced from a combination of wild animals and farm stock. Farm owners also admitted transporting wildlife to the Chinese border for export to China. Some farm owners illegally purchase farm stock from commercial hunters and then transported and imported wildlife without a license.
The report concluded the farms don't supply food for local rural communities. Instead most of the unfortunate wildlife victims ends up as luxury items for urban consumers.
What to do about it? The WCS authors recommend prohibiting farms from holding nationally protected and globally threatened species, penalizing farm owners who violate wildlife protection laws, and requiring farm owners to document the source of the animals they keep.
I'm still favoring the aspirin trade.