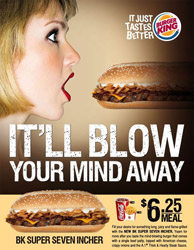 Fight disinformation:
Sign up
for the free
Mother Jones Daily
newsletter and follow the news that matters.
Two sexy burger ad revelations today. First, the burger-as-blow-job Burger King ad burst onto the scene, second, The Hills' Audrina Partridge becomes the latest scantily clad lady to make love to, I mean, to lustily eat a Carl's Jr. burger. In the ad, that started airing today, Partridge pretends to eat a ginormous pineapple burger while lying on a beach in a bikini, alternately resting the burger on her toned tummy. The tagline: "More than just a piece of meat." The ad sends exactly the opposite message of course. Partridge, just like Paris Hilton and Padma Lakshmi before her, has every right to chow down on this burger, but to suggest they all do so on the regular is just silly. To make women envious, and men horny, well, that's advertising for you.
The fine-print on this choice Burger King ad:
"Fill your desire for something long, juicy and flame-grilled with the NEW BK SUPER SEVEN INCHER. Yearn for more after you taste the mind-blowing burger that comes with a single beef patty, topped with American cheese, crispy onions and the A1 Thick and Hearty Steak Sauce."
A1 should be embarrassed and ashamed. Or else totally peeved that they didn't think of fashioning their 8-inch tall bottle as a phallic tower of manhood. Thick and Hearty? An explosion of flavor? The pieces were all right there!
But will BJ's BK's ad backfire? That 18-34 demographic of burger-loving, frat boys and ex-frat boys who swill beer with their buds and play touch football, but are also hopelessly homophobic, how will they feel "blowing their mind" on this 7-incher? I predict men will be wary of the order even, lest the cashier, who probably only gets the lowly Whopper Jr. on her break, think they likes the beef, if you know what I mean.
In all seriousness, the BK ad is pretty gross, but perhaps a bigger deal than degrading ads is that these burgers are really, really bad for us, and for the planet. Surprise surprise, it was only a matter of time before ads became less subliminally sexist and shallow, and more overtly so. Sex sells, we know this, and Carl's Jr. and Burger King are spelling it out in all caps, using people who don't eat their burgers, and outrageous ads that will have the worldwide web achatter about its sexual innuendo, not about its saturated fat and calories (BK doesn't yet list the 7-incher's nutritional profile yet but its Double Whopper with cheese has 1,010 calories and 24 grams of saturated fat, 66 grams total).
And since Burger King is going racy and explicit in targeting sex-crazed burger eaters, maybe they could unstraddle that fence they're riding with their homepage web promotion touting their commitment to kids, healthy meals, and active lifestyles. "Hey parents!" it exclaims. Hey parents is right.