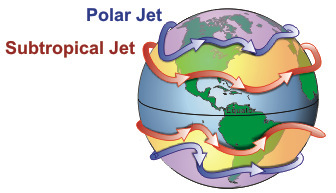 Fight disinformation:
Sign up
for the free
Mother Jones Daily
newsletter and follow the news that matters.
There's enough power in high altitude winds to power all of modern civilization. A new study in Energies analyzes where the best winds flow.
Obviously, the jetstream powers along like a jet. At 30,000 feet, winds are far steadier and 10 times faster than winds near the ground.
A variety of tech schemes have been proposed to harvest this energy, including tethering kitelike wind turbines into the jetstream. Current designs could generate 40 megawatts of electricity and transmit it to the ground via the tether.
So where do the Earth's jet streams run most strongly and consistently? The researchers assessed wind power density from 28 years of data, taking into account wind speed and air density at different altitudes. The highest wind power densities appear in the polar jet streams:
over Japan and eastern China
over the eastern coast of the United States
over southern Australia
over north-eastern Africa
The median values in those places were greater than 10 kilowatts per square meter. Even the best winds on the ground generate less than 1 kilowatt per square meter.
Of five major citites assessed, Tokyo, Seoul, and New York have enormous potential. (New York claims the highest average high-altitude wind power density of any U.S. city, about 16 kilowatts per square meter.) Tropical Mexico City and Sao Paulo are rarely affected by the polar jet streams, and just occasionally by the weaker subtropical jets, so their wind power densities are lower.
However, even the powerhose citites get windless times about 5 percent of the time. Which means we'll need back-up power, or massive amounts of energy storage, or a continental or even global electricity grid to make it work.
Worldwide infrastructure? Worldwide cooperation? Or War of the Winds?