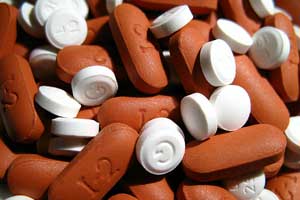 Fight disinformation:
Sign up
for the free
Mother Jones Daily
newsletter and follow the news that matters.
Big Pharma pulled off a first-class PR coup last week with its widely celebrated pledge to support health care reform by offering up a package of discounts they claim will run to $80 billion over the next ten years. The highlight of the package, said to be worth about $30 billion, is a 50 percent discount offered to old and disabled people who fall into the "donut hole," the notorious coverage gap in the Medicare Part D prescription drug benefit, which leaves some of us paying as much as $3,000 out of pocket for our meds.
Announcing the agreement, President Obama hailed the drug-makers for offering "significant relief" to a "continuing injustice that has placed a great burden on many seniors," and for helping to reach "a turning point in America's journey toward health care reform." AARP, the mammoth old people's lobby, was right there at Obama's shoulder, with head man Barry Rand trumpeting that industry's progress: "This is an early win for reform and a major step forward. It is a signal the process is working and will work." The deal was also seen as a victory for Senate finance committee chair Max Baucus (D-MT), who engineered negotiations in his self-assigned role as champion compromiser in the reform debate. But the real triumph belongs to the drug companies themselves, since the supposedly magnanimous offer is just what we might expect it to be, considering the source: another wolf in sheep's clothing from Big Pharma.
When it comes to securing their interests against even the flimsiest of threats, the drug-makers' pockets appear bottomless. A look at last week's Center for Responsive Politics report on the industry offers an awe-inspiring view of the druggies in action: To begin with, we're not talking about a handful of lobbyists twisting the arms of members of Congress. Pharma had 1,814 flacks at work last year and 1,309 in the first 3 months of this year. That's 12 percent of all the lobbyists in Washington. Last year alone the drug industry spent $234 million on lobbying. In the first three months of this year, it spent more than $66.5 million—$1.2 million a day. And that doesn't include polling, advertising, and research. Among the top recipients of Pharma funds are several members of the Senate finance committee, including Baucus himself, who have positioned themselves as a "coalition of the willing" dedicated to promoting a bipartisan middle ground on health care reform—in other words, minor changes that won't seriously affect private sector profits.
While it continues to spend millions glad-handing elected officials, Big Pharma's latest PR pitch is designed to make the industry look beneficent while preserving—or even enhancing—its profits. As industry analysts quickly recognized, the Medicare discount program is unlikely to hurt the drug-makers' bottom line. Charles A. Butler, a pharmaceutical analyst at the investment bank Barclays Capital, told the New York Times that he did not think the deal would have "a material adverse impact" on drug company earnings. "Because of the discounts," he said, "Medicare beneficiaries are likely to continue filling prescriptions in the doughnut hole, whereas in the past many stopped taking their medications because the drugs were unaffordable to them."
There's a further twist as well, in that the agreement only promises cost reductions on brand name drugs, which account for an increasingly smaller percentage of all prescriptions—a trend that the discount program might actually help to reverse. Reuters business news pointed out that "concessions will be funneled in an area that could generate additional sales volume." Reuters quoted Deutsche Bank analyst Barbara Ryan, who said "roughly 20-25 percent of Medicare D patients reach the doughnut hole, and the majority of them either stop or switch their medications." So Big Pharma's scheme stands to not only keep the drugs flowing to oldsters, but also keep them from changing to lower-priced generic alternatives. It's even conceivable that some Medicare recipients, already struggling with the confusing morass of Part D benefits (which cover various drugs at different rates that can change at any time), might well ask their doctors to switch them from generics to brand name prescriptions, thinking it could save them money.
As a long-term strategy, this all makes good business sense for the drug manufacturers. A study released last year by Wolters Kluwer Health showed "clear evidence of a growing affinity for generics and a continual slide away from brands" since the institution of the Medicare prescription drug program. In 2007, the study found, generics accounted for 63 percent of the Part D market, up from 50 percent just three years earlier. "What's most striking," said a VP of the information services company, "is the fact that of those who discontinue their branded drug therapy in the coverage gap, only 6% return to them after leaving the gap." In other words, seniors keep taking the cheaper generics, even once the government starts picking up the bill again in the new calendar year. Since most Medicare recipients spend more time outside of the donut hole than in it, the drug-makers could actually see a big payoff from their discount program if it keeps a fair number of elders from switching off of brand name drugs.
This is an especially well-timed ploy for Big Pharma, since the patent clock is ticking down on a number of its biggest cash cow drugs, which are taken primarily by older people: The patent on Lipitor—the number one drug in retail sales, with annual sales in 2008 of $7.8 billion—expires next year, along with the patent on the Alzheimer's drug Aricept. Plavix, which weighs in a number three with $4.9 billion, is not far behind, with its patent running out in 2011. And the list goes on (courtesy of a reader on my Unsilent Generation blog).
And suddenly, Big Pharma's generous "concession" starts to look like nothing more or less than a pitch to keep people taking expensive brand name drugs, and keep the government—and the taxpayers—funding them. All this points to the fact that despite their protestations, the drug companies, like the insurance companies, have no real objection to health care "reform," as long as it happens on their terms. The Republican-penned Medicare prescription drug bill, for example, was a huge boon to both industries, opening up a mammoth new market for their products, with the government footing the bill.
What the drug-makers want to avoid, then and now, is an end to what Dean Baker calls "their government-granted monopolies," which allow them "to charge whatever they want. As a result, we pay nearly twice as much for our prescription drugs as people in countries like Canada and Germany." By making voluntary "concessions," the industry positions itself to combat any real change that might affect its profit margins. And with drug spending estimated to total $3.3 trillion over the next decade, $80 billion in discounts is a small price for Big Pharma to pay to preserve its stranglehold on the American health care system. So is $1.2 million a day to preserve its friends in high places in the United States Congress.