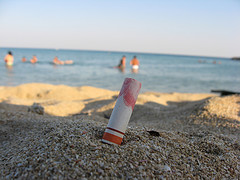 Fight disinformation:
Sign up
for the free
Mother Jones Daily
newsletter and follow the news that matters.
Almost by mistake, the Senate passed legislation Thursday that could greatly benefit the environment. By a margin of 79-17, Senators approved a bill that will allow the Food and Drug Administration to place substantial regulations on tobacco products. Most of the regulations are aimed at reducing the number of people who begin smoking at a young age by banning fruit-flavored cigarettes and cartoonish packaging and ads aimed at children. Such efforts would undoubtedly improve the nation's collective health. But applying higher taxes and stricter rules to tobacco product sales could also clean up the stain cigarettes leave on the planet.
BUTTsOUT, an international organization dedicated to reducing the environmental impact of smoking, reports that 4.3 trillion cigarettes are disposed on the side of roads, in water sources, and in public parks every year. And cigarette butts, which take more than 25 years to decompose, account for more than 50 percent of all litter in most western countries. Growing tobacco contaminates water supplies, destroys soil, and consumes almost four miles of paper every hour during the factory rolling process.
This legislation is good news for the 440,000 smokers that cigarettes kill each year. And if it can clean up tobacco's environmental mess at the same time? We'll all breathe a little easier.