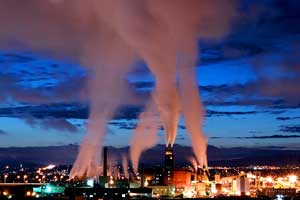 Fight disinformation:
Sign up
for the free
Mother Jones Daily
newsletter and follow the news that matters.
A long-awaited vote on the Waxman-Markey climate bill, expected this week or early next month, has environmentalists teetering at the edge of existential crisis. Some believe the bill is so deeply flawed it might actually make matters worse; disillusionment with the bill is causing fierce recriminations within the environmental movement and has led to a knockdown, drag-out fight within the Sierra Club.
"This situation represents much more than just a normal legislative fight," says former Sierra Club president Larry Fahn, who as a current board member has argued that the bill has been watered down to the point of being unsalvageable. "It's about the core of what we're now fighting for, and who we are."

The split encompasses more than predictable ideological divides. Debate over the relative merits of a carbon tax versus this bill's cap-and-trade model has mostly given way to concerns about whether the legislation, sponsored by representatives Henry Waxman (D-Calif.) and Edward Markey (D-Mass.), lines the pockets of polluters with little to show for it. The most it would cut carbon emissions by 2020 is 17 percent below 1990 levels, nowhere near the 25 to 40 percent reduction sought by scientists and international climate negotiators. The Sierra Club has withheld its endorsement in hopes of improving the bill before a final vote—it wants to prevent polluters from receiving tradable emissions permits for free, preserve the EPA's authority to independently regulate carbon, and better fund energy efficiency and clean energy—but Fahn and other environmentalists are skeptical that lawmakers will listen. "From my perspective," he says, "the prospects of strengthening it to where we'd want to support the ultimate version are growing slim."
Many environmentalists blame Waxman-Markey's flaws on the United States Climate Action Partnership (US-CAP), a coalition of industry and moderate environmental groups such as the Natural Resources Defense Council that, during the last years of the Bush administration, quietly hammered out what has become the bill's framework. Sierra Club board member M.K. Dorsey, a professor of global environmental policy at Dartmouth, calls the environmentalists in US-CAP "well-meaning liberals who do not pay enough attention to political economy." He adds: "They got out-maneuvered, they got hoodwinked, because they were in over their head."
US-CAP's approach hasn't shifted along with the political climate in Washington, says Michelle Chan, a program director with Friends of the Earth (FoE), a left-of-center environmental group. Given that US-CAP's environmental members "signed a deal in blood" with companies such as Shell and Duke Energy before the election, "the new politics of Obama never played out in this scenario," she says. "So the deal doesn't move the ball forward now. We're stuck."
Other enviros disagree. "I absolutely do not know what people are smoking when they argue that the political climate is different now," counters Manik Roy, vice president for federal government outreach at the Pew Center on Global Climate Change, a founding member of US-CAP. "We have huge parts of this country that generate electricity from coal, and that are very dependent on manufacturing—none of that has changed." Nor has the American public's willingness to overcome those interests, he adds. "Poll after poll is showing that we don't have a critical mass in this country who are concerned about the urgency of climate change. Until that changes, I think this bill is truly the best we can get in this economic environment."
Hoping to underscore public support for a stronger bill, the Sierra Club has unleashed what may be the largest grassroots organizing effort in its history. In the run-up to next week's vote the club and other groups are spending $5 million on television ads, phone banking, and activating their networks in key congressional districts. MoveOn.org recently began blasting similar messages to its 3.2 million members. "I think progressives are starting to wake up to this bill," says FoE's director of domestic policy, Erich Pica. "Is it in time? I don't know."
"On the big issues, I don't see the bill getting strengthened on the environmental front," says Roy of the Pew Center. FoE's Pica agrees: "The cosponsors are very aware of the deals that they have struck. US-CAP is a very fragile entity, and so they want to do everything they can to make sure that that entity is able to back them up as this goes forward. So amendments like reinstating the Clean Air Act, or amendments that strengthen the Renewable Energy Standard, or amendments that get rid of offsets, or amendments that increase auctions—all those have the real potential of splintering or fracturing the US-CAP group."
But on the other side, amendments that further weaken the bill are being seriously discussed—a major rub for environmentalists. Some House Democrats want to increase the role of agricultural carbon offsets, weaken standards for biofuels, and further raise the bill's cap on carbon emissions. (Most House Republicans aren't factors in the negotiations because they're expected to vote against the bill.) That's left some enviros wishing that other liberal lawmakers had sponsored a stronger bill to pull Waxman-Markey to the left. "That would have been the way," Chan says, "but nobody's really stepped up."
Still, many environmentalists reserve their greatest frustration for Obama, who spoke out in favor of auctioning off pollution permits during his campaign—a major selling point with progressives—but is now thought likely to sign whatever bill crosses his desk. "Those who want to see something done are essentially going into this fight with their heaviest hitter sitting down, getting a massage," Pica says. He speculates that Obama is deferring to Congress on the climate to save his political capital for a health care fight.
Given that almost all environmental groups agree that Waxman-Markey is far from ideal, the ultimate question is whether passing an imperfect bill now is better than holding out for a better one later. Those who advocate for an incremental approach point out that the US needs to bring something to the table in the next round of international climate talks in Copenhagen this December. On the other hand, Pica argues that improving massive bills like the Clean Air Act and Clean Water Act took decades, "and by that time we will have carbon-loaded the atmosphere to such a degree that it may not be worth improving anymore."
Fahn believes the Sierra Club, which often sticks in the middle on these kinds of questions for fear of alienating supporters, needs to get back to the kind of politically difficult but principled stand that helped it save the Grand Canyon in the 1960s. "We need to be bold and strong leaders and not be the ones to work a compromise," Fahn says. "The Sierra Club should be leading the fight for the best way to save the planet."
For a look at the good, the bad, and the ugly points of the Waxman-Markey bill, go here.