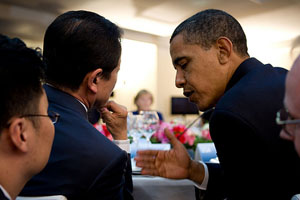 Fight disinformation:
Sign up
for the free
Mother Jones Daily
newsletter and follow the news that matters.
Despite the smiles and promises of change, the G8 accomplished little to nothing but soft targets on serious climate goals, which will hereafter be easily ignored by all who pretend to endorse them.
This business of holding out for economic equality between all nations in the emissions fight is laughable when you consider that economic mayhem is hot on the heels of do-nothing climate change.
So how can we break the climate impasse? According to a new paper in the Proceedings of the National Academy of Sciences, it's easy.
Since half the planet's climate-warming emissions come from less than a billion of its wealthiest people, the fairest strategy is to base each nation's emission targets on its number of wealthy individuals—not on the basis of whether the country itself is developing or developed. In other words, we should distribute emissions reductions based on the proportion of the population in the country doing the most damage.
At the moment, the world average is about 5 tons per person. But each European produces around 10 tons and each North American and Australian some 20 tons.
By focusing on rich people everywhere, rather than on rich countries and poor countries, the proposed system would ease developing countries into any new climate change framework.
Except it doesn't look like any one is interested in easing anyone else's way. It's still the godawful tragedy of the commons here… Leaders? Barack Obama ain't no Abraham Lincoln.