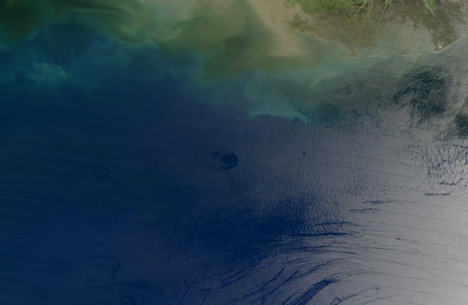 Fight disinformation:
Sign up
for the free
Mother Jones Daily
newsletter and follow the news that matters.

The Thai energy company PTTEP cannot stop a major oil leak spewing from its wellhead in the Timor Sea off the northwest Australian coast—despite an emergency response lasting a week and despite dropping nearly 5,000 gallons of chemical dispersant on the slick, reports the The Sydney Morning Herald.
The West Atlas drilling unit is owned by Norway's SeaDrill Ltd but operated by PTTEP Australasia. Clean-up managers are the Australian Maritime Safety Authority (AMSA), reports WA Today.
BTW, studies in seabirds show that dispersants can be as lethal as oil to affected wildlife.
The spill in the West Atlas drilling unit began August 21st and now stretches across at least 110 miles of ocean, though PTTEP admits to only 8 miles. Reuters reports an air exclusion zone has been set up and ships have been advised to stay more than 20 nautical miles away from the rig, which is too dangerous to board.
Capping the leak is expected to take weeks. PTTEP is towing a new rig from Singapore to drill a relief well nearby, hoping to stem the flow. The new rig left Singapore on Thursday and is expected to arrive after about 16 days, with an additional four weeks needed to drill the second well. Outcome of the drilling, obviously, unknown.
The Australian company Woodside Petroleum, headquartered in Perth, has offered the use of a closer drill rig and an emergency team to speed the response. So far no answer from PTTEP.
There's a lot at risk out there in a region considered an oceanic superhighway linking the Indian and Pacific Oceans. Affected wildlife, according to WWF Australia, includes flatback sea turtles, an Australian species of special concern, plus other sea turtles, sea snakes, seabirds, pygmy blue whales, and many other cetaceans.
Depending on winds, the slick could be pushed to atolls like Scott and Ashmore Reef, areas of global significance for their unique wildlife.
WWF Australia is calling for changes to preparations for such disasters, pointing out it took three days for the first dispersant to be sprayed, although the region is considered a critical area for biodiversity.