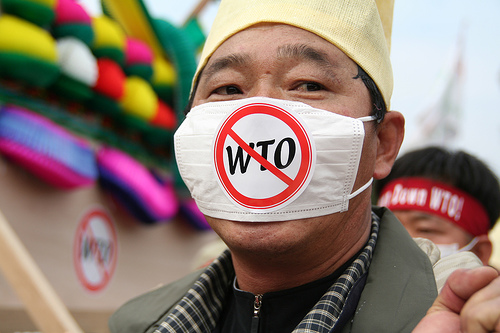 Fight disinformation:
Sign up
for the free
Mother Jones Daily
newsletter and follow the news that matters.
With the Copenhagen climate conference just around the corner, China's commitment to cap its carbon intensity and Obama's lack of firm commitments dominated most of the environmental headlines from the UN summit this week. So most observers missed a promising idea floated by French President Nicolas Sarkozy: an environmental counterweight to the World Trade Organization.
"Let us create a single World Environment Organization in Copenhagen," Sarkozy said during his speech to the UN General Assembly on Tuesday. The French president used his turn at the podium to champion an idea he and German Chancellor Angela Merkel had laid out for Secretary General Ban Ki-moon in the days leading up to the summit. A letter from the duo explained that after a climate agreement emerges from Copenhagen "a new institutional architecture will need to be set up to foster the development of international environmental law. Environmental governance must be overhauled." The letter concludes: "We must make use of the momentum provided by Copenhagen to make further progress towards the creation of a World Environmental Organization."
Speaking with the French quarterly Politique Internationale in 2007, Sarkozy went so far as to suggest that the proposed body "could in particular be a counterweight to the WTO, which has a tendency to neglect environmental problems."
In the past, critics have responded to calls from politicians and academics for a World Environmental Organization by pointing out that we already have one, namely the UN Environment Programme. However, some experts, such as Edward Gresser of the Democratic Leadership Council, firmly dismiss this response. Gresser describes the UNEP as a "visibly second-tier structure" that lacks an "effective way to mediate or solve disputes over the agreements under its jurisdiction."
Writing in the most recent issue of Democracy Journal (sub. req.), Gresser advocates for a Global Environmental Organization similar to Sarkozy's proposed WEO. He argues that without a strong WTO-like organization that has a robust dispute mechanism, the Copenhagen agreement "could eventually lead to the worst case outcome: a combination of economically destructive trade conflicts with little actual reduction in emissions." Under his proposal, environmental disputes would be settled by panels weighing "both scientific and legal expertise" and, crucially if such a body is ever to have a chance with nationalistic politicians, "remedies could include compensatory sanctions."
While the green WTO proposed by Sarkozy and fleshed out by Gresser is certainly an appealing idea, the difficult economic and political realities imperiling the Copenhagen summit make it unlikely that such an ambitious organization could be created before the climate change agreement—assuming there is one—comes into effect in 2012. That said, the WTO provides another hopeful example. The powerful international organization grew out of the General Agreement on Tariff and Trade after the US Congress rejected the WTO-like International Trade Organization in the late 1940s.
Regardless of what happens at Copenhagen, it bodes well for the future that world leaders are seriously discussing such an ambitious idea. As Gresser hopefully concludes, "if it all works out as it should, the citizens of a cleaner and healthier world, sometime in the 2070s, will be complaining about the [World Environmental Organization], occasionally criticizing it as domineering or ineffectual—as it quietly improves the quality of their lives."