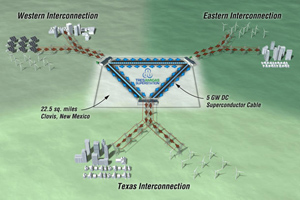 Fight disinformation:
Sign up
for the free
Mother Jones Daily
newsletter and follow the news that matters.
America's electricial consumption has skyrocked in the past decade, but the country's electrical grid is struggling to keep up with demand. Summertime blackouts are just one sign that the system is being pushed beyond its means. Former Energy Secretary and New Mexico Governor Bill Richardson sums up the crisis this way: "We're a major superpower with a third-world electricity grid."
In fact, it's even worse than that—Richardson should perhaps have said "three completely unconnected third-world electricity grids." The US has independent systems that seperately charge the West, the East and Midwest. It is not possible for electricity generated in New Mexico to reach East Coast consumers. But on Tuesday, officials in New Mexico finally unveiled plans to build a superconductor in Clovis, New Mexico to allow energy to flow between the three systems. On Wednesday the AP reported on the proposed project, the Tres Amigas SuperStation:
Mexico Gov. Bill Richardson, who served as President Bill Clinton's energy secretary, said the transmission station would be "historic."

"This is going to be the largest power converter in the world, making New Mexico the meeting place for America's electricity needs," he said at a news conference to unveil the project.

The transmission hub would be located across 22 square miles in eastern New Mexico near the Texas border. Clovis was chosen because it is nearest to where the nation's three power grids—called the East, West and Texas interconnections—come closest together.

Tres Amigas would build a triangular pathway of underground superconductor pipelines, combined with AC/DC converters that synchronize the flow of power between the interconnections. The equipment allows electricity to be transferred from grid to grid.
In recent months lawmakers have been upping the ante for renewable energy development in a variety of ways in hopes of lessening the load that America's energy demands place on the environment. On Monday Interior Secretary Salazar dedicated Arizona's first commercial wind farm, then zipped on over to Sacramento to sign Schwarzenegger's initiative to expedite the use of Recovery Act funds to develop renewable energy on public lands in California. As Salazar's recent activity illustrates, a lot of America's renewable energy projects depend on the ability to energize homes with electricity generated on the vast stretches of windswept and sun-scorched western land. But before politicians and developers can make good on their renewable energy resolutions, they will have to face the unpleasant reality of America's archaic and disjointed electrical grid.