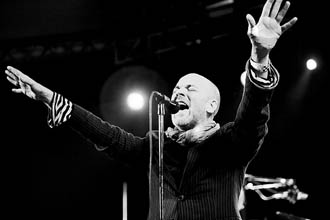 Fight disinformation:
Sign up
for the free
Mother Jones Daily
newsletter and follow the news that matters.
Does being forced to listen to Bruce Springsteen constitute torture?
In truth, the guards at Guantanamo and other US military prisons overseas could have played detainees just about anything. Turn it up loud enough, set it to repeat enough times, and any song in existence—from metal band Doom's hyper-aggressive "Die MF Die" (lyrics: Die motherfucker die motherfucker die motherfucker… etc.) to Prince's "Raspberry Beret" to Don McClean's "American Pie" would suffice to disorient prisoners, mess with them, deprive them of sleep. As part of our March 2008 special report Torture Hits Home, we published a list including these songs and numerous others—the Barney theme, the Meow Mix cat food jingle—that were used by interrogators and guards to soften up their charges.
In December 2008, then Mojo staffer Jesse Finfrock reported that British human rights organization Reprieve had launched a campaign called zero dB (decibels) to fight such abuses; artists including Massive Attack and guitarist Tom Morello of Rage Against the Machine—another name on our torture playlist—got on board to demand the US military stop using their songs. "It's difficult for me to imagine anything more profoundly insulting, demeaning and enraging than discovering music you've put your heart and soul into creating has been used for purposes of torture," Nine Inch Nails singer Trent Reznor wrote on the band's website days later. (NIN's songs were reportedly among those used to torture military contractor-turned-whistleblower Donald Vance.) "If there are any legal options that can be realistically taken they will be aggressively pursued," Reznor promised.
Today, he, Morello, and other prominent musicians—including megabands R.E.M. and Pearl Jam—took a step in that direction, attaching their names to a national campaign to pressure Congress to shutter Gitmo once and for all. They are also demanding that the government declassify documents related to the use of music in interrogations—a practice the United Nations has condemned. Among the other artists signing on are Bonnie Raitt, Jackson Browne, T-Bone Burnett, David Byrne, Rosanne Cash, the Roots, Rise Against, and popular British crooner Billy Bragg. "Guantanamo may be Dick Cheney's idea of America, but it's not mine," Morello said in a statement announcing the effort. "The fact that music I helped create was used in crimes against humanity sickens me."
The campaign is spearheaded New Security Action, a group cofounded by retired Lt. General Robert Gard and former Maine Congressman Tom Andrews, with backup from retired Brig. General John Johns and Huffington Post blogger Jon Soltz, a veteran's activist. The hope is that the participation of famous musicians will help stir up some grassroots pressure on lawmakers; Cheney and others on the right have made it politically difficult for President Obama to fulfill his pledge to shut down the prison by January.
Leading the declassification effort is the National Security Archive, a group that has been active around the Bush White House's vanishing email saga. The Archive says it has collected at least 20 documents so far involving use of music against Gitmo detainees. It quotes a 2004 Pentagon report, noting that the "futility technique included the playing of Metallica, Britney Spears and rap music." The group intends to file freedom of information requests with the CIA, US Special Operations Command, FBI, and other agencies "pertaining to how the music was chosen and the specific role it played in interrogations of detainees" at Gitmo.
Of course, if such documents are ever released, they probably won't tell us very much that we don't already know or suspect—although they will undoubtedly add to the torture playlist. As for the selection process, odds are that the songs were simply chosen by whatever sadist happened to be on duty that day. Say what you will about death metal, Eminem, or the Boss. So far as this reporter is concerned, the guy who picked the Barney theme deserves his own very special place in Hell.
Follow Michael Mechanic on Twitter.