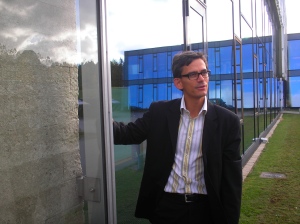 Fight disinformation:
Sign up
for the free
Mother Jones Daily
newsletter and follow the news that matters.
Energy efficiency is not particularly exciting. But it is among the best hopes for a quick fix on emissions in the US, and it's another area where Denmark has made significant progress. Improved building codes lowered the overall cost of heating Danish buildings 20 percent between 1975 and 2001, even though the amount of space that needed to be heated in homes and buildings expanded by 30 percent over the same period of time, according to the Danish Energy Authority.
It's not like we don't now about the value of improved efficiency in the US. The McKinsey study on the value of greater efficiency has been cited repeatedly in recent months. It includes a litany of potential benefits that could come by simply making our building stock less wasteful. Energy use in buildings accounts for 40 percent of our fossil fuel use and, thus, 40 percent of our emissions. More than half of that is used on heating and cooling, and much of that leaks out thanks to woefully inefficient construction.
The McKinsey report found that investing in energy efficiency measures for the nation's buildings has the potential to reduce energy consumption 23 percent by 2020, save up to $130 billion a year, cut emissions of 1.1 gigatons, and create 900,000 new jobs. That would put us well on our way to the carbon dioxide emissions reductions being discussed in Congress, for one, and would save Americans a heck of a lot of money. What's not to like?
Well, for one, energy companies don't like it, because they're in the business of selling power—the more of it, the better. (Let me again direct you to Bradford Plumer's excellent piece about our screwed up utility and regulatory system.) And for another, the US seems to have a sincere inability to look at costs in the long term. Even if improving the insulation of your home pays for itself very quickly through reduced heating bills, there's not a great willingness among the American public to expend the cash, without a push from the government. In Denmark, they've gradually ratcheted up the building codes over the past 30 years.
We visited the headquarters of Rockwool today, a Danish insulation company. So of course, their goal was to sell us on insulation—particularly the kind they create, which is made by melting down rocks and spinning the molten rock into a substance not unlike cotton candy. It's much like the fiberglass insulation the dominates the market in the US, but less pink, more sound proof, and also, fire-resistant. This type only accounts for about 5 percent of the insulation in the US, but more than 80 percent of the insulation in Denmark .
The visit was interesting, and of course was intended to convert us into evangelists for insulation. I didn't need to be sold on that idea: insulation is key to energy efficiency, and we don't use it nearly well enough in the US. But one thing that struck me was a point that Rockwool spokesman Thomas Nordli made in his presentation. He noted that there are regular check-ups on car emissions, both in the US and Denmark. Every few years, you're required to get your car checked to make sure it's not exceeding emissions limits or leaking any dangerous substances. Why don't we have similar standards for our building stock?
Denmark is apparently considering adopting some measures of this sort. But in the US, just some basic guidelines for efficiency included in the House energy and climate bill provoked Republicans to claim that a "global warming gestapo" would storm your home and force you to be more efficient. The horror!
Fortunately, the House bill did pass, with some significant improvements for efficiency. By 2030, it would save consumers an average of $486 per household, create more than 600,000 jobs, reduce emissions by more than 500 million metric tons, and prevent the need for an additional 419 medium-sized coal-fired power plants, according to a study by the American Council for an Energy Efficient Economy. Much of that comes from energy efficiency requirements for utilities, but there are also major gains from improved building codes, funding for retrofits, and improved appliance efficiency standards.
The building code provisions alone, however, could generate a net saving of $2.91 billion for consumers each year by 2020, and avoid 35.1 million metric tons of carbon dioxide emissions. So while energy efficiency and building codes may not sound particularly sexy, they are an easy way of cutting back emissions while making energy consumers happy.
Kate Sheppard is blogging this week from Denmark. The trip for U.S.-based journalists was arranged by the Climate Consortium Denmark.