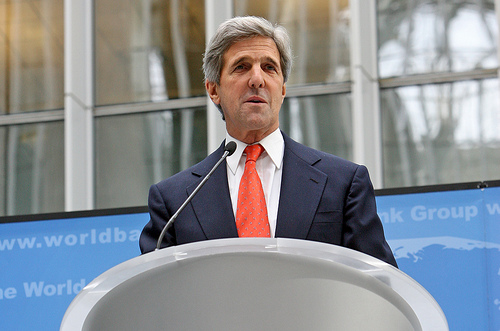 Fight disinformation:
Sign up
for the free
Mother Jones Daily
newsletter and follow the news that matters.
John Kerry gave a barn-burner of a speech at the World Bank on Wednesday, laying into development banks for pouring massive sums into dirty energy projects in poor countries. "Reducing energy poverty and combating climate change cannot be mutually exclusive challenges," said Kerry. "We won't solve climate change unless we also seriously tackle energy poverty, and we haven't really solved energy poverty if we ravage our planet in the process."
World Bank and other development banks notoriously pay little or no attention to the carbon footprint of the energy projects they fund. Since 1994, the World Bank and other multilateral development banks and export credit agencies have directed $37 billion to the construction or expansion of 88 coal-fired power plants, according to an Environmental Defense Fund (EDF) study released earlier this year. This sum was matched by approximately $60 billion from private funders and local governments—bringing the total investment in dirty energy projects to more than $100 billion.
Those 88 plants will spew 791 million tons of carbon dioxide into the atmosphere each year. Yet the Bank classifies 40 percent of its energy lending as "low carbon" even if the recipients of its loans are massive coal plants. Why? Because the new plants pollute a little less than the old ones. Financing such projects, EDF concluded, is "hamstringing the fight against global warming."
Kerry was unusually agressive in his critcism of development banks. "There is no excuse," he said, for the Inter-American Development Bank's decision to back two new coal-fired power plants in Brazil. And the World Bank, he argued, should take the lead by including emissions as a key criteria when deciding which energy projects to finance. Kerry called on the Bank to weigh not only estimates of construction and operation costs when funding new projects, but also projected emissions. The Bank should also work harder to present low-carbon alternatives to its aid recipients, and fund clean energy projects whenever possible.
Kerry also called on the Bank to stop funding coal projects that lack the technology to capture and store emissions using money that is supposed to go clean energy projects. "A coal plant without technology to capture and sequester the carbon it emits is not a clean energy project, and it shouldn't be funded as one," he said. Since so-called "clean-coal" technology is not yet available for widescale deployment, Kerry is essentially calling on the Bank to stop funding new coal plants until it is.
"I'm all for burning the coal we have, provided we can put in place clean technologies to capture and sequester carbon, and I'm committed to massive new investments to make real clean coal commercially viable," he said. "When even my Senate colleagues from coal-producing states talk about implementing clean coal technologies, the Bank shouldn't be in the business of funding yesterday's coal technology."