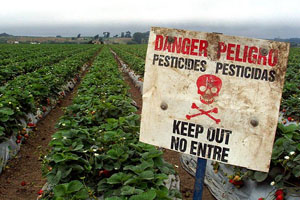 Fight disinformation:
Sign up
for the free
Mother Jones Daily
newsletter and follow the news that matters.
When Michelle Obama announced plans to plant an organic garden at the White House, nearly everybody thought it was a great idea. Everybody except for the pesticide industry. Representatives from a branch of the industry's main trade association, CropLife America (CLA), wrote to the First Lady asking her to respect the role of "conventional agriculture;" they added in a separate note to supporters that the thought of the White House's chemical-free vegetables made them "shudder." But the public swipe at the president's wife didn't stop the administration from nominating senior CLA executive Islam "Isi" Siddiqui to a key post: chief agricultural negotiator for the office of the US Trade Representative (USTR). If confirmed, Siddiqui will be responsible for, among other things, negotiating international agreements governing the use of pesticides.
CLA is the American branch of CropLife International, a powerful global lobby; its members include agriculture giants such as Dow AgroSciences, Monsanto, and DuPont. Siddiqui joined the CLA in 2001 as a registered lobbyist, and since 2003 has served as its vice president of science and regulatory affairs. In that position, he's played a critical role in setting CLA's domestic and international agenda.

Chiding Michelle Obama for not using "crop protection products" in her garden is one of the milder tactics CLA has deployed in service of its cause. During Siddiqui's tenure at the organization, it has lobbied aggressively to weaken domestic and international regulations on pesticides and other agricultural chemicals.
In 2005, the group participated in secret talks with the Environmental Protection Agency and the Office of Management and Budget on permitting pesticide testing on children. In 2006, CropLife America helped secure an exemption for American farmers for a worldwide ban on methyl bromide, an ozone-depleting pesticide. It has also actively worked to remove what it terms "trade irritants" on pesticides under NAFTA. In its 2008 annual report, CLA highlighted its "relentless" efforts to persuade negotiators to cut language "discriminatory to pesticides" from the 2008 Farm Bill. Meanwhile, its parent organization has fought to eliminate all tariffs on pesticides in World Trade Organization trade negotiations.
After the nomination was announced, more than 80 organizations—including environmental groups and organic and local farm interests—wrote to the Senate Finance Committee in protest. "The Obama administration has said they're not going to put lobbyists in these roles in government, and [Siddiqui] was a lobbyist, he worked for industry," explained Doug Gurian-Sherman, a senior scientist working on food and environmental issues at the Union of Concerned Scientists. "The question is whether he can take a scientific, unbiased perspective on what works and doesn't work, rather than a trade agenda that primarily [supports] large US companies and the technologies they prefer."
While running for president, Obama promised Iowa voters that Big Ag would not call the shots on his administration's farm policy. "We'll tell ConAgra that it's not the Department of Agribusiness," he proclaimed. Yet agribusiness seems pretty satisfied with Siddiqui's nomination—more than 40 companies and trade groups signed a letter applauding it.
Siddiqui is a textbook example of the type of revolving door careerist that Obama promised to shun for key administration posts. Before joining CropLife, he held several jobs in Bill Clinton's Department of Agriculture, including senior agricultural trade adviser and undersecretary for marketing and regulatory programs. During that period, he advocated against efforts to label genetically modified foods.
Following Siddiqui's nomination earlier this year, the White House credited him for having led "the first phase of development for national organic natural food standards in the United States." What press officials didn't mention was that those standards received a barrage of criticism upon their release in 1998. As Mother Jones reported at the time, the first version of the rules "not only included the use of genetically engineered products but also allowed for irradiation and fertilization with sewage sludge—which can contain metals and toxic chemicals." In December 2000, after receiving more than 300,000 public comments, the Department of Agriculture strengthened the rules.
At his November 4 confirmation hearing, Siddiqui faced few tough questions from the finance committee. Only Sen. Ron Wyden (D-Ore.) asked for Siddiqui's views on sustainable agricultural practices and about his background working for the petrochemical industry. The nominee's response was vague. "I am a true believer in all processes, systems, whether using conventional means or organic, and I will do my best in terms of representing all these interests in promoting agriculture exports of both organic as well as conventionally grown products," he said.
The committee is expected to approve Siddiqui's nomination sometime this month. And critics aren't optimistic that he'll live up to his word and give sustainable agriculture a fair shake. "Given his background," said Gurian-Sherman, "we think he's going to continue to push the industrial agriculture agenda he's been involved with for the past years."