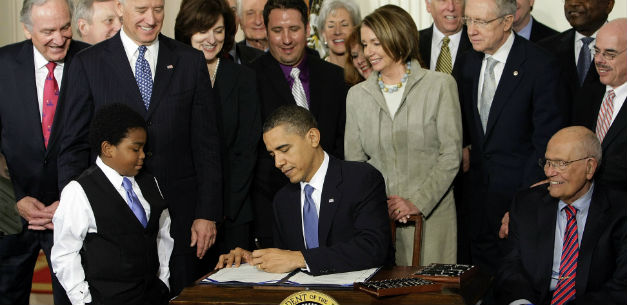 Fight disinformation:
Sign up
for the free
Mother Jones Daily
newsletter and follow the news that matters.
Will health care reform come at the expense of abortion rights? The Democrats' historic health care bill squeaked through the House on Saturday only after pro-life forces scored a major victory. Despite months of wrangling over the public option and the price tag, in the end the legislation's fate turned on an eleventh-hour push by conservative Democrats to broaden the bill's existing limits on government funding of abortion, in the form of an amendment authored by Rep. Bart Stupak (D-Mich.). Here's what happened and what it means:
The Stupak amendment mandates that no federal funds can be used to pay for an abortion or "cover any part of any health plan" that includes coverage of an abortion, except in cases where the mother's life is in danger or the pregnancy was the result of rape or incest.
The first part of the amendment isn't new. The 1976 Hyde Amendment already prevents the use of federal dollars to pay for most abortions. Where pro-lifers won big was on the second part, which could significantly limit the availability of private insurance plans that cover the procedure.
That's because Stupak's amendment doesn't just apply to the public option—the lower-cost plan to be offered by the government. The House health care bill will also provide subsidies to help people and small businesses purchase plans on an exchange. This represents a lucrative new market for insurers: anyone earning less than $88,000 for a family of four qualifies for assistance, as well as certain small companies. But to gain access to these new customers, insurers will have to drop abortion coverage from their plans.
Around 87 percent of plans cover abortion (though not all employers choose to actually include it). But under the House bill, the Congressional Budget Office estimates that 21 million people will participate in the exchanges by 2019 and that 18 million of them will do so via government subsidies. In theory, insurers could create separate plans for women who don't qualify for credits but still want to buy a plan on the exchange. In reality, this is unlikely to happen, meaning that even women who purchase plans entirely with their own money in the new market may be unable to obtain one that offers abortion coverage.
Over time, the goal is for many more people to join the exchanges—the bigger they are, the more effective they'll be. Not only will this put greater numbers of women in the same bind, it could affect abortion coverage in private plans outside the exchanges, too. "How big will exchanges have to be in an insurer's business model before they decide it's easier to standardize their coverage?" said Adam Sonfield, senior public policy associate of the Guttmacher Institute, a policy and research organization that focuses on reproductive health.
The Stupak amendment says that women are free to buy an optional rider to their plans that would cover abortion, as long as no money appropriated by the bill is used to pay for it. Critics call this ridiculous. People don't think they'll need coverage for most medical procedures until the day they actually need it; as detractors of the amendment have pointed out, no one plans for an unplanned pregnancy. Imagine if all insurance plans worked like a smorgasbord, in which you tried to guess the operations and medicines you might require sometime in the future. How many procedures would you actually fork out for in advance? Five states already have similar "rider" laws in place, but according to Sonfield, "No one seems to have come up with evidence that these plans are ever sold."
Proponents of the Stupak amendment insisted that they were simply making sure that health care reform complied with the Hyde Amendment. But by constricting private coverage for abortions, they expanded Hyde's reach. And Stupak's sweeping measure was hardly the only option on the table. Until around 8 p.m. on the day before the vote, House Speaker Nancy Pelosi tried to marshal her caucus around an amendment offered by Rep. Lois Capps (D-Calif.), which would have allowed women to isolate their federal subsidies in a separate account and pay for abortions out of their premiums instead. But that compromise fell through after a vigorous lobbying push by the Conference of Catholic Bishops, which instructed priests around the country to raise the issue in their churches. In the end, the Stupak amendment passed 240-194, with 64 Democrats voting in support. (Twenty-three of those Democrats ultimately voted against the health care bill.)
There are two big questions as the health care reform fight moves to the Senate. First, will the Senate mimic Stupak? So far, its leading proposal contains no equivalent provision, but abortion foes, emboldened by their biggest triumph in years, are sure to push for one. Second, if a bill passes the Senate, will the Stupak amendment be stripped out in subsequent House-Senate negotiations? House Democrats' chief deputy whip, Rep. Diana DeGette (D-Colo.), has reportedly collected signatures from 41 Democrats vowing to oppose the final bill if the Stupak provision remains in. That's enough to prevent legislation from passing. But 41 Democrats supported both the Stupak amendment and health care reform, which is also enough to block the legislation if all of them decided abortion financing was a deal-breaker. Following the House vote, the White House declined to condemn or support the anti-abortion provision. There's no way to predict what will come next in this high-stakes legislative tussle, but one thing is clear: in the push to provide access to health care for all Americans, abortion is now the official political football.
Update: Obama nudged Congress to revise the Stupak amendment on Monday, suggesting in an interview with ABC News that he thinks it goes too far in limiting private insurance coverage of abortions. The president explained that his administration is not looking to change the existing ban on the use of federal money for abortion—ie. the Hyde Amendment—but he wanted to ensure "we're not restricting women's insurance choices."