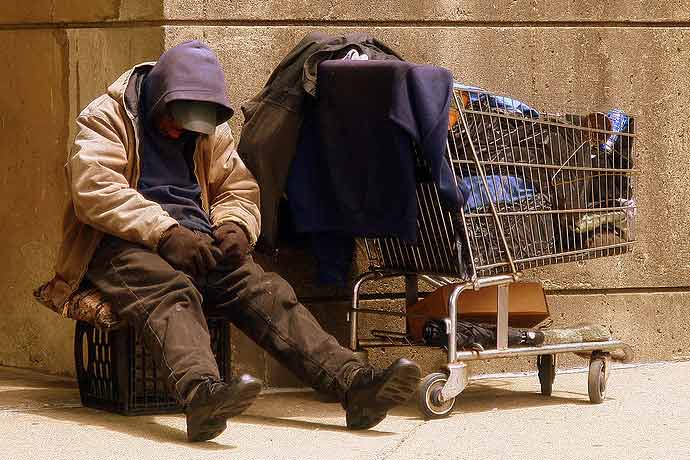 Fight disinformation:
Sign up
for the free
Mother Jones Daily
newsletter and follow the news that matters.
Almost half of unemployed workers in the United States experience mental-health problems. Some 40 percent of those with children say their kids show "behavioral changes." One-quarter have lost their homes or are close to it. One-quarter receive food stamps. What Tuesday's New York Times poll didn't mention are the social implications. Here's what your neighborhood can expect if the job situation isn't addressed:
More homeless — 19 out of 25 cities saw an average 12 percent rise in homelessness from November 2008 through this past October. "We're seeing a new trend and I would expect the number to rise substantially," Nan Roman, president of the Washington-based National Alliance to End Homelessness, told Reuters.
More homeless mentally ill — 20 to 25 percent of the 700,000-plus homeless people living on the street are thought to have a serious mental illness. Expect homelessness to exacerbate mental health issues—like severe depression—linked to job losses.
More people on Medicaid — States estimate that Medicaid enrollment will rise 6.6 percent over current level as a result of the recession. Enrollment grew by a state average of 5.4 percent in 2009, the highest rate in six years.
More children on Medicaid receiving antipsychotics for displaying "behavioral changes" — See Drugging the Poor.
More people frequenting predatory payday lenders — See San Francisco's New Spin on Payday Loans.
This vicious poverty cycle may seem too daunting to tackle—where to begin?—but in these writings, Kevin Drum and James Ridgeway offer long-term solutions for some of the problems this new slew of poor and their communities potentially face. Spoiler alert: The remedy involves progressive taxes for social services.