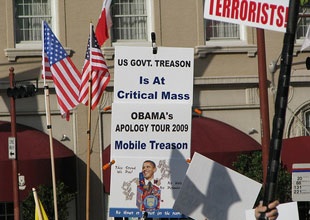 Fight disinformation:
Sign up
for the free
Mother Jones Daily
newsletter and follow the news that matters.
Tea-party style activism has taken some nutty turns before—the Hitler references, the Holocaust pictures. But Walter Fitzpatrick III may be about to push anti-Obama activism to new heights. On Tuesday, he plans to walk into the Monroe County courthouse in tiny Madisonville, Tennessee, and attempt to convince a local grand jury to indict the president on treason and fraud charges.
Fitzpatrick is one of those alternate-reality Americans who believe that Barack Obama is actually one Barry Soetoro, a man who is not an American citizen and thus ineligible to serve as president. Fitzpatrick claims that since March, he has been trying to get federal prosecutors in Tennessee to bring treason charges against the president. All that effort earned him, however, was a visit from the Secret Service.
But then Fitzpatrick evidently discovered that Monroe County has rather liberal rules about grand juries. In most places, only a local prosecutor can present evidence to a grand jury and request an indictment. In Monroe County, any private citizen can show up with a petition and seek an indictment. The most common initiators of such proceedings are usually victims of robberies or assaults, however, not activists trying to unseat the president.
Fitzpatrick tried this once already, filing a brief in late August that read, in part:
OBAMA-SOETORO IS MY SWORN ENEMY! – And as there were TRAITORS to Italy in Caesars day, I report to this GRAND JURY with force and authority there are senior military officers no more obedient to the CONSTITUTION than their criminal DICTATOR, OBAMA-SOETORO.
But the attempt didn't go very well. JB Williams, a frequent contributor to the conservative website Town Hall and apparently something of an unofficial spokesman for Fitzpatrick, wrote that the local DA and the grand jury foreman threw Fitzpatrick out of court. (Fitzpatrick could not be reached for a response, and the district attorney was unavailable to comment on this account.)*
Fitzpatrick's supporters frequently cite his status as a retired Navy lieutenant commander as proof of his integrity and patriotism. What they fail to mention is that in 1990 he was court-martialed for financial negligence, a move that essentially ended his military career. He runs a blog called JAG Hunters, and reportedly lives in Sweetwater, Tennessee. His website provides all the information activists need to file their own treason charges against Obama, and he invites people to copy him on their filings so that he can publicize their efforts. He lists seven others who've joined the crusade so far.
Fitzpatrick is hardly the first to attempt legal proceedings against Obama, but his scheme is unique in that it involves criminal allegations. Those challenging Obama's citizenship in court have usually done so via civil suits (most of which have been thrown out by unsympathetic judges). Others have convened mock "citizens" grand juries to "indict" the president, sending the charging documents to local prosecutors in North Carolina and elsewhere. So far, no prosecutors have taken up the case.
Fitzpatrick is trying to appeal directly to the people through a grand jury comprised of average citizens who volunteer their time. Still, unless the jurors of Monroe County are truly rabid Obama haters, it seems unlikely that they will be persuaded—or that they even have the power to indict the president in the first place. Treason, after all, is a federal crime, not a county-level offense. When I asked a court employee whether the Monroe County grand jury has jurisdiction to indict a sitting president, she seemed rather baffled: "I wouldn't think so. That would not go before a local court." She observed that the grand jury won't issue any decision on the case until December 7. But for any real criminal charges to go forward, the local district attorney would have to agree to take up the case, a move that any sane prosecutor would be reluctant to make.
Still, the futility of Fitzpatrick's enterprise hasn't deterred self-declared "patriots" across the country from rallying around the news of his testimony and planning caravans to descend on Madisonville to lend moral support. The Tennessee chapter of Sons of Liberty Riders, for instance, will be convening at the Sweetwater Comfort Inn at 7 a.m. before riding their choppers to the courthouse.
The planned rally came as a big surprise to courthouse employees. When I told one staffer about the caravan, she was shocked, noting that Madisonville was a tiny place where not much ever happens. She exclaimed, "Maybe we should tell the restaurant across the street!"
*UPDATE: James Stutts, the Monroe County District Attorney, left a message Monday night saying that in fact, Fitzpatrick testified for two hours before the grand jury in August and the jury declined to bring any charges based on his testimony. He also disputes Fitzpatrick's characterization of that appearance and says the former Navy man was not physicially restrained in any way nor was he forced from the courtroom.