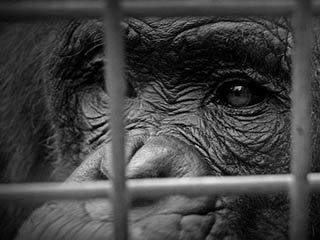 Fight disinformation:
Sign up
for the free
Mother Jones Daily
newsletter and follow the news that matters.
Editor's Note: A weekly roundup from our friends over at TreeHugger. Enjoy!
Are Zoos Prisons? Habeas Corpus Filed for Chimp
Jimmy is a 26 year old chimpanzee who has spent several years alone in a cage, where he's on exhibit at a zoo in Niterói, Brazil, just outside of Rio de Janeiro. Just last week, animal protection groups filed a motion to have Jimmy released on grounds of Habeas Corpus, arguing that he is being denied his rights to freedom of movement and to a decent life, in Rio's Criminal Court.
Digging Into Urban Outfitters' Perfectly Good Trash
The other night around 9.30 pm, I was walking up 14th st. and 6th Ave. when I passed a bunch of boxes next to the trash outside Urban Outfitters. The boxes were all marked "Broken" or "Broken Glass." With my suspicion that their definition of "broken" was different from mine—and with the H&M and Wal-Mart clothing destroying saga fresh in my mind—I pried one open. Inside were all manner of your typical Urban Outfitters ephemera—gag notepads, a disco ball, mugs, hipster tchotchkies, even an iPod speaker system. The stuff wasn't brand new—some of it, like the mugs, was damaged; most of it was just worn or rough around the edges, and totally usable.
Possibility of EPA Regulating CO2 Has Big Ag & Energy Scared
Since the path has been cleared for the EPA to step into the breech and regulate CO2 as a pollutant, even if Congress doesn't think it a worthwhile thing, the possibility has been hanging out there as a trump card. Well, as recent statements by the American Farm Bureau Federation and recent revelations about who's lobbying for Sen. Murkowski's latest EPA hand-tying move show Big Ag and Dirty Energy don't like that possibility one bit.
California Mulls Cap-and-Dividend Program – Families Could Get $1000 Back Per Year
Alternatives to the ascendant cap and trade method of setting a price on carbon and hopefully reducing greenhouse gas emission are slowly building. The California state Economic and Allocation Advisory Committee is reviewing the best way to allocate funds from a carbon mitigation plan set to begin in 2012 and are considering giving most of it straight back to the people—a cap-and-dividend program.
Climate Shifts Contribute to Serious Elecric Power & Water Shortages for Venezuela
A changing climate in Venezuela resulting in loss of hydroelectric capacity could mean bad news for Florida—which has a high level of trade with the South American nation—as Venezuela may have to burn more of it's own oil production simply to meet its own demand for electricity. Of course, Chavez blames the lack of rain, and the resulting fall off in power output, on 'EL Nino' (none of that climate change talk from a major oil producer); but, the fact remains they are in deep trouble with continuing drought.
Chinese-Made Children's Jewelry Found to be Mostly Toxic Cadmium
Who has not heard of the recall of Chinese-made toys and jewelry containing high levels of lead? Which US importers of Chinese-made charm bracelets and such, having learned a lesson the hard way, were simple minded enough to specify only that "no lead" be used in production instead of specifying "no heavy metals" or "no other highly toxic materials?" Several of them, apparently. The story is all over the news now: kids jewelry actually manufactured mostly out of the extremely toxic, elemental cadmium. Why are Chinese manufacturers doing this?