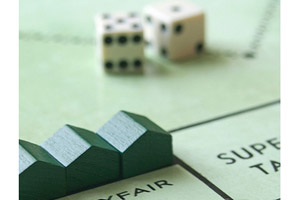 Fight disinformation:
Sign up
for the free
Mother Jones Daily
newsletter and follow the news that matters.
Having trouble with your mortgage servicer? Fear not, homeowner: There are a number of steps you can take when locking horns with the company that oversees the day-to-day management of your home loan. Step No. 1 is always to contact your servicer directly and try to negotiate a solution. Customer service contact information is usually included on invoices and correspondence from the company. You can also find contact information for major mortgage companies here.
However, homeowners often complain that they're unable to reach a live person at their servicer or that company employees pass them off until they wind up leaving voice mail messages in the void. Others find that every time they call they deal with a different person who doesn't know the history of their case. If you're facing any of these scenarios, you still have options.
You can call the HOPE NOW hotline (888-996-HOPE) or visit HOPE NOW's website, which offers information on locating free housing counselors to help mediate with your mortgage servicers. The organization's website also includes information on events throughout the country that can help struggling homeowners, and a wealth of resources on the federal Making Home Affordable program, unemployment benefit estimations, and state foreclosure rules.
If that doesn't work, you can file what's called a "qualified written request" letter, an official complaint under the guidelines of the Real Estate Settlement Procedures Act (RESPA). Here's an example of how to write one of these letters, as specified by the Department of Housing and Urban Development, which oversees RESPA and its servicing statutes. Under RESPA, servicers have to respond to a complaint within 20 business days and try to resolve the problem within 60 business days.
Finally, you can go the legal route and file a civil lawsuit against your mortgage servicer. The National Association of Consumer Advocates has a searchable database of attorneys who litigate housing cases.
And for general background knowledge that can help you deal with servicers, here's some recommended reading: