Fight disinformation:
Sign up
for the free
Mother Jones Daily
newsletter and follow the news that matters.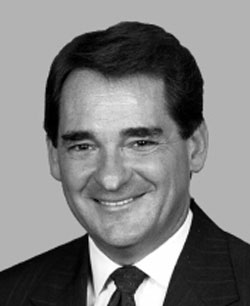 Jon Walker of FireDogLake thinks the health care bill and Medicare Part D (the Bush administration's 2003 budget-busting prescription drug benefit) "could be twins." He doesn't mean that as a compliment. There are a number of flaws with Walker's comparison, but his focus on pharmaceutical lobbyist/former GOP Rep.* Billy Tauzin's role in writing both bills is especially problematic. It's true that the pharmaceutical lobby was originally in the White House's corner on health care reform. But the lobby has switched sides, and pharmaceutical companies have pushed Tauzin out for negotiating what they now think is a raw deal.
Getting powerful interest groups to give up anything at all is a heavy lift. Part D didn't require any sacrifices at all: it was something (drug coverage for seniors, profits for pharmaceutical companies) for nothing (it wasn't paid for). The pharmaceutical lobby supported Part D in part because it really was the corporate handout that Walker thinks health care reform is. It was an easy call.
Health care reform was tougher. The pharmaceutical companies were apparently willing to support health care reform if it was a sure thing and they could limit their losses. They wanted "a seat at the table." Still, the secret deal Tauzin and the pharmaceutical companies struck with the White House required the industry to give up some $80 billion in revenue over the next 10 years. And limiting losses to $80 billion seemed like a good idea when health care reform seemed like a sure thing.
But as soon as the pharmaceutical companies realized they might be able to avoid any losses at all, they switched sides. Suddenly, supporting something that required the industry to give up eighty billion dollars seemed like a really bad plan. So Tauzin lost his job.
The broader point is that if it passes, health care reform will mandate sacrifices by a lot of groups—insurance companies, hospitals, pharmaceutical companies, people with high-cost health plans, the rich, healthy young people who don't want to buy insurance, and so on. Passing something like that in today's political climate would be a minor miracle.
Walker's comparison is useful in one sense. He's basically right that "the cheapest, most direct way" to provide the prescription drug benefit or cover the uninsured would be for "Medicare just provide these groups with what they need." But that would require massive sacrifices by more, and more powerful, groups than the ones that oppose the current plan. Does anyone think hospitals and doctors would hold their fire if they were faced with the prospect of covering the uninsured at Medicare rates? If passing even this bill is such a heavy lift, imagine what that would take.
UPDATE: Well, I owe Jon an apology.
*Added per comments.