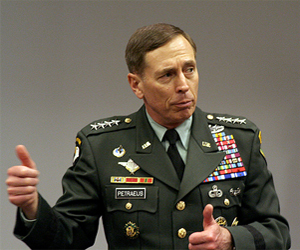 Fight disinformation:
Sign up
for the free
Mother Jones Daily
newsletter and follow the news that matters.
For a guy who doesn't want the job, Gen. David Petraeus sure talks about the presidency a lot. So says the Associated Press in its dispatch today. The AP followed the head of US Central Command—who's credited with writing the book on counterinsurgency, turning Iraq around, keeping Afghanistan close, and generally making patriotism sexy again—as he participated in Q&A's around the country. And every time he was asked a question that bordered remotely on politics, he steered it into a denial that he's trained his sights on the White House:
Part of his stock reply to the politics question—even when it's not asked—is to cite lyrics from a Lorrie Morgan country-western song about rejecting an unwanted suitor: "What part of 'no' don't you understand?"

Then he chuckles as if to suggest he's a bit embarrassed by the fuss—fuss sometimes of his own making.

Is he keeping his options open?
By a long stretch, this isn't the first time "Petraeus" and "presidency" have been joined in the same sentence; two and a half years ago, MoJo's own DC-based Dan Schulman reported in great detail on the general's electoral potential. Even Bob Dole weighed in last year to give the noncandidate his endorsement for commander in chief. And no grassroots candidacy is truly complete without the occasional Astroturf blog of support.
But on further review (and ignoring the obvious concerns about militarism in electoral politics), a Petraeus candidacy might be healthy for the GOP—and for the country. He publicly supported the Obama administration's now-stalled plan to shutter Guantanamo Bay's detention facility and end torture. He holds a doctorate from Princeton and has surrounded himself with intellectuals, left and right, in and out of uniform, who embrace out-of-the-box thinking—no small feat in the military's often stultifying bureaucracy.
Most important, Petraeus has reportedly identified himself as a "Rockefeller Republican," a rare breed of urbane, educated, big-state social liberal that's been excommunicated from the Grand Old Party of late (see also Crist, Charlie; Chafee, Lincoln). Since Barack Obama's election, the GOP has sought to co-opt ultraconservative, right-wing, and Tea Party anger as its brand of choice, effectively marking moderate Republicans as Godless traitors. But who's going to level such attacks on the uniformed, mythical superman who averted disaster and "pacified" Iraq? He could debate the ins and outs of health care policy without being labeled a socialist. He could shut down military tribunals and expand diplomacy without being called an Al Qaeda sympathist. He could discuss the finer points of social policy without being shouted down as a pinko libertine.
In effect, only someone of Petraeus' unassailable stature could force mainstream Republicans back to the political center—and whether or not it's enough to win an election in 2012 or 2016, his candidacy could be an undeniable victory in America's protracted war with rightist extremism.