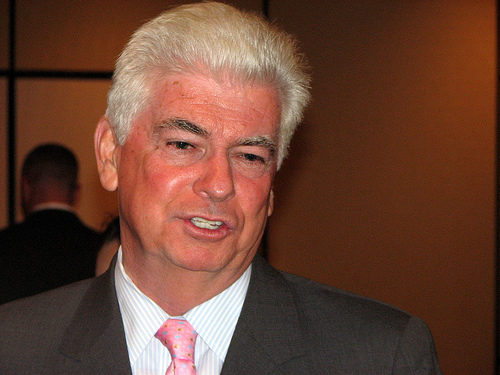 Fight disinformation:
Sign up
for the free
Mother Jones Daily
newsletter and follow the news that matters.
There's light at the end of the tunnel for Chris Dodd's long slog toward a new Wall Street crackdown. In a statement today, Dodd announced he's going to release a draft of his financial reform legislation on Monday. "Over the last few months, Banking Committee members have worked together to try and produce a consensus package," Dodd said. "Together we have made significant progress and resolved a many [sic] of the items, but a few outstanding issues remain."
The announcement from Dodd signals that the Connecticut senator's efforts at writing a bipartisan bill have failed. In a news conference soon after Dodd's announcement, his GOP negotiating partner, Sen. Bob Corker (R-Tenn.), said Dodd's announcement was "very disappointing" and blamed a number of factors for derailing the bipartisan talks. "There's no question the White House, politics and health care have kept us from getting to the goal line," Corker said.
Since Dodd released an early draft of financial reform legislation last November, he and other members of the banking committee have been embroiled in closed-door negotiations over issues like a new consumer protection agency, ending the government's implicit bailout guarantee for failing banks, and creating the power for regulators to unwind or "euthanize" too-big-to-fail and too-intertwined-to-fail banks. The fate of consumer protection, in particular, has become a lightning-rod issue in the financial reform talks between Dodd and Corker. Dodd has insisted he doesn't care where a new consumer-protection agency is housed—the Federal Reserve and the Treasury are two potential locations—so long as it's "independent," meaning having a presidentially-appointed leader, independent budget, and rule-writing and enforcement powers. GOPers, however, have pushed back against that independence, arguing that any new agency shouldn't have enforcement authority.
How the consumer protection battle plays is just one key issue to look for in Dodd's draft. While you're at it, here are five more to watch for on Monday:
Payday lenders: Corker, whose home state of Tennessee is a stronghold for these loan sharks, reportedly pushed to gut oversight of payday lenders. The House's financial reform bill, passed in December, included no such exemptions, and consumer advocates say no new set of comsumer protections is complete without a crackdown on these guys.
Bank oversight: The latest proposal to leak out of Dodd's talks has been letting the Federal Reserve keep oversight of the 23 biggest banks—those with $100 billion or more is assets—and creating a super-regulator to oversee the remaining banks, stripping the FDIC of its power and possibly merging several other regulators. The House's plan wouldn't create the super-regulator, but would merge two existing regulators and keep some oversight with the Fed.
Banning risky "proprietary trading": There've been rumblings that Dodd might include the "Volcker Rule"—a ban on proprietary trading, or when taxpayer-insured banks engage in trading for their own gain (not their clients') or invest in casino-like operations such as hedge funds and private equity funds. The House empowered the Fed to ban this risky trading, and a Senate bill announced yesterday would prohibit it as well. It's unclear whether we'll see a similar ban in Dodd's bill.
Fed as bailout king: In the recent financial crisis, the Fed stepped in to rescue the housing markets and essentially backstop the country's banking system and credit markets. There's been little to no discussion coming out of Dodd's talks on whether he'll put a cap on the Fed's bailout power; the House bill would set a $4 trillion cap and add new safeguards when the Fed wanted to flex its bailout muscles.
Derivatives in the dark: Dragging the $300 trillion over-the-counter (OTC) derivatives market onto exchanges and into the light of day, where trades and prices are visible, is another key reform issue. A Democratic Senate aide said last month that the Senate could include an exemption in its derivatives regulation that would essentially exempt two-thirds of the OTC market, a move that would let off many institutions who use derivatives for speculative reasons, not purposes of risk management or hedging. How Dodd's new bill tackles the derivatives question will be a telling sign of whether he truly wants to enact tough reform, or whether he's offering mere window dressing.