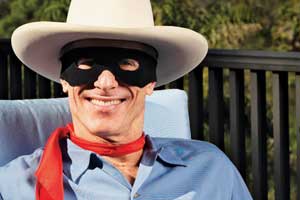 Fight disinformation:
Sign up
for the free
Mother Jones Daily
newsletter and follow the news that matters.
IN THE SUMMER of 2008, Fred Karger was keeping a close eye on the California ballot initiative known as Proposition 8, the measure that would eventually outlaw gay marriage in the state. He didn't have much background in the marriage-equality movement—hell, he'd only really been out for a few years. But after retiring from 30 years in politics he wasn't quite ready to give up the game, and Prop 8 struck a nerve with him. He checked out the campaign finance reports for the main organization backing the initiative, ProtectMarriage.com. Polls had shown that the initiative was likely to fail, and the fundraising records dovetailed with that—Prop 8's supporters weren't raising nearly as much money as their Hollywood-backed opponents.
But then, in midsummer, Karger noticed something new. Suddenly, money started pouring in to ProtectMarriage.com, and by August, the group was raising about $500,000 a day. Karger wondered where all the money was coming from. Most of the donors, he soon realized, had never made a political contribution before. Some had given to just one candidate: Mitt Romney. Quite a few were graduates of Brigham Young University. It wasn't hard to connect the dots: This was Mormon money.
Once he knew what to look for, Karger found Mormons everywhere in the Prop 8 campaign: as actors in the TV ads, as volunteers, organizers, and political consultants. Just as intriguing, he would discover eventually, the group that had done the lion's share of the work to get Prop 8 on the ballot to begin with, the National Organization for Marriage (NOM), also had deep ties to the Mormon Church—and the church itself had been engaged in a campaign to block gay marriage across the nation for more than a decade. What he was looking at, he realized, was a stealth campaign much like the ones he'd run during his long career as a Republican political operative.
As a political professional, Karger—who for decades worked for one of California's premier campaign consulting firms, a shop that had helped invent modern opposition research—was grudgingly impressed with what the Mormons were doing. "They completely altered the landscape," he says. "They took over every aspect of the campaign." Karger estimates that Mormons ultimately contributed $30 million of the $42 million total raised in support of Prop 8, which passed easily in November 2008. (By contrast, anti-Prop 8 forces raised $64 million.)
But if the opponents of gay marriage won the battle, they also ensured themselves a big headache. In Karger, they galvanized an adversary who has now dug in to fight for the long haul—and who brings a dramatically different skill set than the rest of the marriage-equality movement. As Karger notes, most of the prominent gay-marriage advocates are, well, married people: risk averse and unschooled in the political dark arts. "I'm a different kind of gay activist," he says. "I'm a little wilder."
HE'S ALSO a little more, well, Republican. At 14, growing up in Glencoe, Illinois, Karger took the train to Chicago to work phone banks for Nelson Rockefeller. He was deputy campaign director for former California governor George Deukmejian and spent 27 years with the Dolphin Group, one of the country's most sought-after Republican consulting firms. The firm did a lot of work with Lee Atwater, the late bad boy of Republican politics. As part of Atwater's most infamous play, during the 1988 campaign against Michael Dukakis, Karger personally tracked down the victims of furloughed murderer Willie Horton and took them around the country for press events. "We made a huge splash," he notes. "This is kind of my niche."
Another of Karger's specialties at Dolphin was setting up Astroturf groups on behalf of corporations like Philip Morris—a phony restaurant trade group, for example, that lobbied against indoor smoking bans. Dr. Stanton Glantz, director of the Center for Tobacco Control Research and Education at the University of California-San Francisco, helped expose Karger's front group, which he recalls slowed down smoking bans significantly. "Anybody who does that kind of work is a bad guy," he says. "It's deceitful." But he concedes that in the secretive gay-marriage foes, Karger has found the perfect foil. "He's very well positioned to out these guys because he knows how they work it."
If Glantz thinks of this kind of covert work as sleazy, Karger views it as a whole lot of good fun. Movie-star tan and buff enough to proudly go shirtless at 60, he has an expansive sense of humor about politics that masks just how focused he is on getting results. (He's been known to hand out three-dollar bills with pictures of Rick Warren, or photos of himself dressed as the Lone Ranger.) A fearless and inveterate gate-crasher, Karger isn't afraid to pull off nervy stunts, like masquerading as a restaurant lobbyist. In 2006, he waltzed into Vanity Fair's exclusive Academy Awards party with a fake Oscar statue and four hot chicks he'd met on the street, claiming to be part of the King Kong special effects team.
Karger says he honed his creative, chameleonlike qualities early in life out of necessity—to hide his sexual orientation. As a young man, being gay was his "deepest, darkest secret. I grew up thinking I was much less of a person than my friends and counterparts. Twenty-seven years ago, no one was out. Growing up I had two choices: I was either going to be like Liberace or like Paul Lynde [a.k.a. Uncle Arthur on Bewitched and a regular on Hollywood Squares]. Neither was out." He did have long-term relationships, including one that lasted 11 years. But his partner had to hide all the photos and flee the house when Karger's family came to visit.
His father, a Chicago stockbroker, had expected him to work in the family firm, but Karger—figuring his secret would get out eventually if he stayed in town—moved to Los Angeles. Through contacts he made at the 1972 Academy Awards (which he'd crashed as part of a frat fundraiser), he ended up appearing in commercials, including a famous shaving cream ad directed by the late John Hughes. He appeared in '70s shows like Owen Marshall: Counselor at Law and was on the verge of minor stardom when he won a top role in the pilot for a spin-off of Welcome Back, Kotter. But the show was canned, so Karger found work on a political campaign and discovered his true calling.
KARGER INSISTS there was never conflict between his sexual orientation and his campaigning for Republicans. The Dolphin Group, he says, worked mostly with socially moderate candidates. Even Ronald Reagan, he recalls, had an inner circle that was "very gay. Nancy was very gay-friendly. He was a wonderful politician, a wonderful man." Today Karger considers himself a "Schwarzenegger Republican," noting that the California governor supports gay marriage, "unlike President Obama."
Still, it was only after leaving Dolphin in 2004 that Karger became involved in gay causes—or, to be precise, the cause of a historic gay bar in Laguna Beach, the Orange County surfer town where he lives part time. In 2005, billionaire Steven Udvar-Hazy was seeking to shut down the 43-year-old Boom Boom Room to build a luxury hotel. Karger thought it might be fun to try to save the Boom.
It wasn't an easy decision—he'd only been out to family and close friends, and by joining this fight he'd announce his sexuality to the world. Still, after some soul-searching, he threw himself into the project with the flair of an actor and the chops of an oppo-research man.
He took out a Variety ad appealing to George Clooney and Brad Pitt to save the club (the actors had been rumored to be interested in buying it) and picketed their appearances at Grauman's Chinese Theatre. To help engage the locals and raise a little money, he ran a male calendar contest, using Laguna Beach's primary natural resource: hot young guys. He delivered wheelbarrows full of petitions to the City Council and finally won its support for the campaign. In the end, the Boom ended up closing anyway, but Udvar-Hazy's hotel plans have stalled and the building is up for sale, leaving the possibility of a resurrection.
The Boom campaign taught Karger an unexpected lesson. After years of depending on gobs of money and powerful allies for his campaigns, it turned out that all he really needed was the Internet. "I didn't have to raise any money! Which is of course the least enjoyable part of politics," he says with a laugh.
A few months later, Karger read a newspaper story about the push to put Prop 8 on the California ballot. A couple of wealthy San Diego businessmen had contributed a lot of money to NOM, the Mormon-connected group that had been largely responsible for gathering the signatures to qualify the initiative. One of them, Terry Caster, who the paper reported had given more than $160,000 to the effort, said that "without solid marriage, you are going to have a sick society."
For Karger, who's happily single, gay marriage is a bit of a theoretical concept. But he thinks a lot about the hurtful messages gay kids hear growing up, and Caster's comment made him mad. So he fired up his laptop and launched Californians Against Hate, a one-man shop dedicated to publicizing the names of major Prop 8 donors. "I wanted to make it socially unacceptable to take away the rights of a minority," he explains—to, as it were, push such behavior into the closet. In July 2008, he held his first rally in front of a San Diego hotel owned by Prop 8 donor Doug Manchester, calling for a boycott. It caught on, and soon major clients were moving their meetings away from Manchester's properties. By last spring the hotel's new, gay PR guru let it be known that Manchester would be donating $25,000 in cash and up to $100,000 in hotel credits to any LGBT group that applied. (Few takers so far.)
As the battle over Prop 8 raged, Karger continued to expose donors and work the press. He tipped off the Wall Street Journal about the Mormons' involvement, and in September 2008 the paper broke the story. And he kept finding new ways to hound his adversaries: In monitoring post-election campaign finance reports, he noticed that the Mormon church was only reporting $2,078 in nonmonetary contributions to the Prop 8 effort. That didn't square given that the church had mobilized a huge number of volunteers (many of them former missionaries with ample door-knocking experience), brought in busloads of supporters from Utah, arranged satellite broadcasts of church leaders, and produced a host of slick ads plus a top-notch website.
Karger filed a formal complaint with the California Fair Political Practices Commission, a move that prompted a spokesman to claim that the church had spent "zero dollars" on Prop 8. Two months later the church filed a new report saying it had given $190,000 worth of nonmonetary contributions in the few days before the election (after the filing deadline for the earlier report). California election officials are continuing to investigate.
As he made a name for himself in the Prop 8 fight, Karger began getting anonymous tips about the church leadership. One of those tips led him to a treasure trove of internal church documents that laid out a remarkably organized campaign to fight gay marriage nationwide. The church, Karger realized, had been involved in this fight—quietly, but very effectively—for much longer than he'd thought.
THE FAITH of a persecuted people, many of whom starved to death on their trek to Utah, Mormonism has always emphasized the role of marriage and childbearing (hence its early practice of polygamy) to boost its numbers. Mormons must marry and have children to achieve the highest levels of divinity. There's not much room in that scheme for same-sex marriage, at least not among a leadership dominated by men in their 70s and 80s. In 1995, the church made its position official by issuing a proclamation carrying the weight of scripture that declared marriage between a man and a woman the bedrock of society.
Even before that, the church had been working behind the scenes to block gay marriage nationwide—and aligning itself with the Catholic Church, which, elders noted in internal memos, had "more respect" than the Mormons. To execute that vision, the church used its public affairs committee, a body organized much like a political consulting firm. Its leadership has included high-ranking church elder Richard B. Wirthlin, a legendary California political consultant who was Ronald Reagan's pollster. Wirthlin was a major player in the Prop 8 fight (some of his relatives even appeared in ProtectMarriage.com's TV ads). The public-affairs committee for decades tracked gay-marriage efforts in every state, almost single-handedly blocked it in Hawaii in the 1990s, and had a significant role in killing it in Alaska.
The documents Karger obtained, some of which he has posted at mormongate.org, show that in Hawaii, the church went to the trouble of creating a front group to hide its role. Memos detail how the church looked for an "articulate middle-age mother who is neither Catholic nor LDS" to represent the organization—which would claim to also focus on prostitution and gambling, but would, in fact, be devoted solely to abolishing gay marriage.
The documents convinced Karger that the Mormons had also created a front group to fight gay marriage in California. That group, he believes, is NOM, which has also been active on the issue in Massachusetts and Maine, and which was primarily responsible for putting Prop 8 on the ballot. Its board had deep connections to the church, including a former Brigham Young University professor whose family is part of the top church hierarchy. NOM's president is Maggie Gallagher, the family-values activist who was exposed in 2005 for failing to disclose payments she received from the Bush administration.
Karger began hounding NOM for information about its finances, such as the tax forms every nonprofit must make available to the public. He contacted the IRS, various NOM offices, even sent an ally to the group's headquarters in New Jersey—where, despite repeated visits, no one answered the door. He struck out.
Brian Brown, NOM's executive director, says Karger is guilty of "religious bigotry." There is, he says, no factual basis for his claims that NOM is a front for the Mormon Church. "Fred Karger has a history of being untruthful and making false attacks on NOM and in general trying to intimidate and harass [NOM] supporters. Frankly he's an embarrassment to those who want to civilly debate the same-sex-marriage issue. He has no basis in reality. We see Fred Karger as someone who is wasting our time."
Yet Karger's muckraking has clearly struck a nerve with NOM. In January 2009, with the help of the Indiana-based Christian right law firm Bopp, Coleson & Bostrom, the group sued the state of California, challenging the law that requires disclosure of ballot-initiative donors. NOM alleges that the requirements prompt harassment of donors—in good part, court documents suggest, via lawn-sign theft.
It's a serious case from a group of lawyers who have an excellent track record at overturning campaign finance laws. (James Bopp [pdf], one of the firm's name partners, brought the original lawsuit in Citizens United v. FEC, the Supreme Court case that in a seismic January ruling led the court to throw out federal limits on corporate spending in elections.) The California lawsuit could have implications far beyond the state, striking at the heart of more than 40 years of transparency legislation. In connection with the suit, NOM has subpoenaed Karger—demanding, ironically, the exact same kind of financial information it's refusing to give him. Karger is fighting the subpoena.
While the lawsuits proceed, Karger is continuing to poke NOM with a stick. When news of Carrie Prejean's sex tapes leaked, he demanded to know if NOM would fire the former Miss California, who had appeared in one of its ads. He's sent out press releases calling on Maggie Gallagher to take a lie-detector test. But if his opponents took the gimmicks to mean Karger wasn't serious, they were in for a surprise.
AFTER PROP 8, the gay-marriage battle moved to Maine, whose legislature legalized same-sex marriage last spring. A ballot initiative to void the law soon followed, and Karger started tracking Maine campaign filings. Right away, he noticed that few individuals from Maine had given any money to the local group working to get the initiative on the ballot. Instead, the group, Stand for Marriage Maine, was getting a huge share of its money from NOM.
Maine law requires any organization raising more than $5,000 for a ballot initiative to register with the state and report the names of donors who give more than $100. But NOM never registered in Maine. Karger suspected that the boycotts had scared donors, and that NOM was trying to funnel their money to the Maine campaign anonymously. Sure enough, he intercepted 79 emails NOM sent out to supporters after the success of Prop 8 in California and found that 16 of them were essentially fundraising appeals for NOM's work in Maine. "Every dollar you give…is private, with no risk of harassment from gay marriage protesters," one promised. Another read, "Donations to NOM are…NOT public information."
Armed with those emails, Karger asked Maine election officials to investigate what he called NOM's "money laundering." And on a gloomy day in October, he traveled to Augusta to testify on his complaint. He was going up against some of the nation's top campaign finance lawyers, and he was pumped.
"I've spent 30 years in politics, managing campaigns," Karger told the ethics board, a bipartisan commission appointed by the governor and the legislature. "I've filed and read literally thousands of campaign reports in probably 25 states. I've never seen this type of blatant disregard for election laws." The commissioners sat in stony silence. Karger was convinced he'd lost.
A career in politics has trained Karger to make realistic assessments. The night before the hearing he predicted, correctly, that gay marriage would go down to defeat in Maine. Putting a minority's civil rights on the ballot is always a dicey proposition, and the movement, in his view, was "not ready for prime time." His strategy now is effectively the same one he'd once deployed in the tobacco fight: slow down the other side, force them to spend their money, and embarrass them where you can. (In that spirit, Karger recently launched an ad campaign encouraging viewers to ask Mitt Romney "to urge the Mormon Church to stop its nasty campaign against gay marriage.")
It's likely to be a long fight—in Maine, too, the anti-gay-marriage measure prevailed at the polls last fall—but Karger did score at least a tactical victory. At the conclusion of the Maine ethics hearing, the commissioners voted to investigate NOM, and a federal judge cleared the way for the state to release NOM's donor list. After the announcement, NOM director Brown ended up side by side with Karger among the TV cameras. Karger may be a gay man fighting a movement that considers him an offense to God, but he is first and foremost a political operator. He shook Brown's hand and joked with NOM's lawyer about his impending deposition. Afterward, leaving the building, Karger was buoyant. "If I had a budget, I'd be dangerous," he said with a big smile.