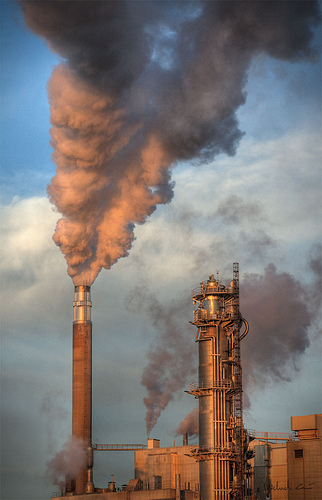 Fight disinformation:
Sign up
for the free
Mother Jones Daily
newsletter and follow the news that matters.
A key bloc of Democrats from industrial states signaled on Thursday that they could be willing to vote for a comprehensive climate and energy bill—if the three senators working on the measure include strong measures to protect manufacturers. The list of demands comes as the bill's authors scramble to gather votes ahead of an anticipated roll out in the coming weeks.
The bill, the senators write, should include measures that can keep and create jobs in America, particularly in the manufacture of things like wind turbines, solar panels, and advanced vehicles. They call for new loans and tax credits for companies that manufacture clean technologies, and for funding for the research and development of new low-carbon technologies. They also call for a carbon cap that insulates energy-intensive industries from rising fuel prices by phasing them into a cap over time, limiting the price of emissions, making sure that companies can buy offsets, investing in carbon capture and storage technology, and creating a "regionally equitable distribution of allowances."
The senators called for a border adjustment, or a fee set on goods coming in from countries that don't have a cap on pollution. This is one of the more contentious issues on their list. These senators have made it clear that this is "necessary to promote comparable action from other countries and prevent carbon leakage," and they won't vote for a bill that lacks one. The House-passed climate bill gave the president the power to levy a fee on goods from countries that aren't abiding by an international climate agreement, but Obama criticized the measure as being too "protectionist."
They also ask for the bill to preempt state and local rules on carbon emissions, which may also be a sore spot in the debate.
Sherrod Brown (Ohio), Carl Levin (Mich.), Arlen Specter (Pa.), ?Claire McCaskill (Mo.), Debbie Stabenow -Mich.), Robert Casey (Pa.), Mark Warner (Va.), Kay Hagan (N.C.), Evan Bayh (Ind.) and Robert Byrd (W.Va.) all signed the letter.
Is this a good sign in the final days before a bill is to be released? I would venture to say yes. Several of these senators (like Bayh and McCaskill) have seemed unlikely to vote for any package that includes a cap on carbon. A clear wish-list is likely a good sign that they are considering supporting the bill the climate troika produces if these requests are met.
Perhaps the biggest concern at this point is that the letter makes it abundantly clear that there is still a lot in flux on the Kerry-Graham-Lieberman bill. Kerry acknowledged earlier this week that "there are still some hurdles" in getting out a bill next week. Now it looks like they've once again pushed back their release date to April 26 according to reports. Whether Kerry, Graham and Lieberman can jump those hurdles in the final stretch is the big question.