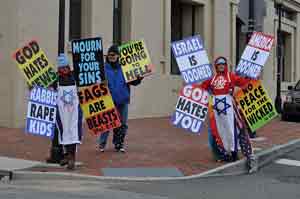 Fight disinformation:
Sign up
for the free
Mother Jones Daily
newsletter and follow the news that matters.
That well-documented religious extremist group from Kansas known as the Westboro Baptist Church recently announced it would picket Bay Area schools and Jewish institutions to show its disapproval of the locals' acceptance of gay people. Palo Alto's Gunn High School—which apparently is still reeling from its recent student suicides—was one of Westboro's stops on its ever-considerate hate-speech trail. Not a bastion of tact, the church attributed Gunn's suicides to a "lack of religious faith."
So in a deft act of Biblical aikido, students, parents, and neighbors countered the so-called Christian organization's "God Hates You" placards with "Love Thy Neighbor As Thyself" signs. Watch the inspirational video below to see the community's myriad slogans and to listen to the songs. You can't miss the songs. Apparently, Stanford University adopted Gunn's counter-protest tactics, using copious amounts of levity to ward off Westboro's Debbie Downer message. One sign read "Gay for Fred Phelps"…my personal favorite.
Follow Titania Kumeh on Twitter.