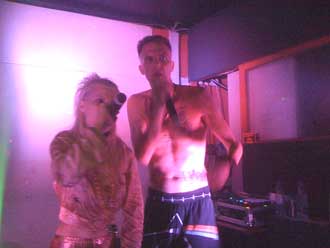 Fight disinformation:
Sign up
for the free
Mother Jones Daily
newsletter and follow the news that matters.
Update: On the brink of their US tour and debut CD release, I interviewed Die Antwoord about their risque new video, South African culture, and why they well self-destruct after five albums: Part 1 here, and Part 2 there.

Have you heard Die Antwoord? You will. I don't know what to make of this crew, exactly, but I'm definitely intrigued. They're a trio of white-trash Afrikaners from southern South Africa, pumping a homegrown rave-hip-hop sound they alternatively call zef-rap or simply "next-level shit."
Leading lady ("Rich Bitch" Yo-Landi Vi$$er) is ultra-twee, a severe, unconventional beauty. Lead man (Watkin Tudor Jones, aka Ninja) is practically a caricature and yet somehow original; angry, inked, completely bonkers—and undaunted by anyone else's idea of cool. DJ Hi-Tek: inscrutable, but the beats are right. Yo-Landi and Ninja are vocally skilled and profane. (Afrikaans, after all, is said to be the best language for swearing.) Catchy. Absurd. Weird with a capped dubya. 51-50. It's hard to look the other way.
Here's Ninja talking to Vice magazine about the group's first album, $0$, coming out soon in the States.
Here in South Africa the taxis play rave music fokken loud my bru. You can hear it from the next city when the taxi comes through, you hear DOOM DOOM DOOM—they gooi the rap-rave megamixes pumping like a nightclub. So my main inspiration is the taxis. The whole album is based on the sound it's gonna make when it's pumping through a taxi—It's that high energy shit you can't compare.
Take their signature bit, "Enter the Ninja," made all the more surreal by a cameo from the talented South African visual artist Leon Botha. (Still in his 20s, Botha is supposedly the oldest living person with progeria, the disease that makes people age ultra-rapidly.) Here Yo-Landi plays sexy schoolgirl; Ninja the bad boy rapper who nobody believed in. He seems earnest—see below—but his bravado, mixed with the madman Lyle Lovett thing, is just hilarious. You're struck, meanwhile, by the smart production and Haring-psych background art. What this video says: These guys absolutely know what they're doing:
On the "undaunted by cool" tip, here's "Zef-Side," shot in their neighborhood. Both here and on their website, the impression is one of a trio of friends deeply loyal to family roots, with a tight connection to place. Seeing Waddy Jones do his bit shirtless on a shabby patio clad in Dark Side of the Moon sweatshorts…Well, it ain't USA-style bling, anyway.
And now for something completely different:
So here's what I can't quite figure out about DA. Is this who they really are, or is it just another set of characters? They have some history: According to this show preview, Jones signed to a major-label deal with a Cypress Hill-esque rap crew called Original Evergreens before quitting to launch an experimental hip-hop thing called Max Normal—kind of a cross between a hip-hop crew and comedy troupe. One Web commenter I came across called Jones South Africa's Ali G. (But he didn't fokken care, because Die Antwoord rocked.) Here are a couple of Max Normal clips. In the first, Jones plays the pathetic rapper trying to get people to pay attention:
The other, one of a series of Ninja creating various creatures, feels like surrealist children's television—and solves the mystery of who made all Die Anwoord's background art:
What more can I add? Keeping it real or not, these people are artists. And when $0$ drops in America, I think I'm gonna have to get me a copy.

Click here for more Music Monday features from Mother Jones.