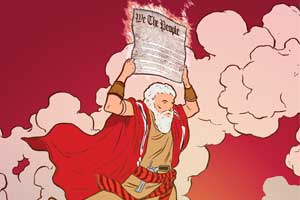 Fight disinformation:
Sign up
for the free
Mother Jones Daily
newsletter and follow the news that matters.
In mid-February, the Washington metro area was still digging out from the season's record snowfall, but Elaine Salisbury was determined not to let that get in the way of her Constitution study seminar. More than 50 people had signed up for the event in Woodbridge, Virginia; the region is a hotbed of Tea Partiers and anti-immigration Minutemen, and Salisbury knew just the tone to strike in her email alert. "This week has reminded me of Valley Forge. George Washington's troops had been reduced to 2,500, a third of whom had no boots for the mid-night march to Trenton on December 25, 1776. They left blood in the snow as they marched on their burlap bound feet…While I don't want you to risk your lives to attend the seminar, I want you to remember what others have done to bring us the freedom that we will be celebrating and learning about this weekend."
The patriots heeded her words, arriving even before the public library opened at 10 a.m, some with babies and preteens in tow. Inside the windowless cinder-block community room, they were rewarded with a lively if unorthodox daylong romp through American history, delivered with a preacher's passion by a "missionary for liberty" named Rick Dalton.
Dalton is a volunteer from the National Center for Constitutional Studies (NCCS) who had come all the way from Mesa, Arizona, to lead the faithful to a new understanding of the nation's core principles—something he has been doing with increasing frequency since the Tea Party movement exploded last year. Many Tea Partiers believe the country's economic and political woes are a direct result of Washington abandoning the Constitution, which they believe calls for an extremely limited federal government that does not concern itself with matters like bank failures or health care reform. They've turned to the founding document with the fervor of evangelicals seeking inspiration from the sacred texts of the past. As their prophet, many have chosen the late W. Cleon Skousen, a right-wing Mormon and self-described onetime aide to J. Edgar Hoover who in 1981 published The 5000 Year Leap—a conservative primer on the Constitution that Glenn Beck regularly urges his followers to read. (Beck even wrote the foreword to the new, bestselling edition.) It's thanks to Skousen's newfound popularity that NCCS, a small and heretofore obscure nonprofit he founded in Malta, Idaho, has seen demand for its seminars triple.
In the Woodbridge library, Dalton, a cherubic-looking man with a shock of white hair who in his spare time rocks out as a guitar player, was dressed neatly in a blue vest and khakis. A former cop and graduate of George Wythe University—an unaccredited institution in Cedar City, Utah, founded by Oliver DeMille, a Skousen protégé—he teaches with NCCS president Earl Taylor at the Heritage Academy charter school in Mesa, where he hones his material on formerly homeschooled high schoolers. He punctuates his lessons with tales of his days at the police academy, Bible jokes, and stories about his immense guitar collection. And like any good evangelist, Dalton weeps.
He kicked off his lecture with a story about former Black Panther Eldridge Cleaver, who once showed up at a Skousen lecture in San Jose, California. Cleaver had been tied to a shootout with police and had spent years evading prosecution in Cuba, Algeria, and elsewhere before turning himself in and pleading guilty to an assault charge. Skousen, ex-FBI man that he was, was nervous to see Cleaver in the audience. But according to Dalton, the famous revolutionary—who upon surrendering had said, "I'd rather be in jail in America than free anywhere else"—was there to learn about liberty. Cleaver later became a lecturer for NCCS—then called the Freemen Institute—as well as a convert to Mormonism.
Dalton choked up as he recalled the Cleaver quote. Once recovered, he directed the group to recite part of the Declaration of Independence, whereupon he choked up again.
The rest of the lecture hewed closely to NCCS's Skousen-penned workbook, The Making of America (pdf)—several of the teenagers in attendance had clearly spent time memorizing it—which stresses God's role in the shaping of America. Not only were the founders seeking to create a Christian nation, according to Dalton, but the Constitution's principles stem from ideas handed down to Moses himself—making it de facto a divine work passed on to the founders by a divine people, their Anglo-Saxon ancestors. (Dalton maintained that the people who settled England and northern Europe may have descended from one of the lost tribes of Israel—a piece of historical poppycock that has long held traction in the white supremacist movement.)
Racially tinged material has gotten NCCS into trouble in the past. In 1986, the state of California's Constitution Bicentennial Commission—headed by a Skousen acolyte—approved the sale of the Making of America textbook as a fundraiser. In the book, Skousen quotes liberally from a 1934 essay by Fred Albert Shannon, who had a rosy view of slavery. (Sample passage: "If the pickaninnies ran naked, it was generally from choice, and when the white boys had to put on shoes and go away to school, they were likely to envy the freedom of their colored playmates.")
Dalton did make sure to condemn slavery during his lecture, though he skipped any discussion of the 13th (or 19th) Amendment and instead focused on the Constitution's free-market origins. As he told it, the founders' love of capitalism was motivated by the experience of the early Jamestown settlers, many of whom starved because they were "communists"—they relied on common stores to ensure that everyone got a fair share of supplies. This, Dalton explained, destroyed their incentive to work, and Jamestown would have perished, but for a new "HDIC—head dude in charge" who heeded the biblical imperative "By the sweat of thy brow shalt thou eat bread" and let people keep what they produced. He also credited Karl Marx with inventing the income tax (a feat more commonly attributed to the decidedly Tory William Pitt the Younger). Dalton argued that the Constitution limits federal purchases of land to forts, magazines and arsenals, dockyards, and "other needful buildings such as post offices." "What about national parks?" he asked. "Think of all that land that could be put on the rolls and generating taxes!"
During a break, as the group snacked on boxed lunches from Panera, I talked to Robert Jeffery, a lanky fellow who spent "20 years and four days" in the Navy and now works as a construction inspector. He showed me a worn copy of the Constitution and Declaration of Independence that he keeps in his pocket at all times. Flipping it open to the Second Amendment, he said, "This is where I usually keep my concealed- carry permit." (He'd left his gun at home for the day.) I asked why he and his friends were spending Saturday at the library when they could be out, say, shoveling snow. They had, they said, turned to the founding principles to understand where the country had gone off track. Ken Vaughn, the head of the Northern Virginia branch of the Beck-inspired 912 movement, explained that his interest had been sparked by Washington "bailing out firms that had no right to be bailed out. I think that made people wake up and look at our debt and think, 'Maybe we need to make changes.'"
Ann Hardt, an energetic, ruddy-faced woman in jeans and sneakers, came to the seminar with three of her six homeschooled kids, ages 18, 16, and 13. She uses the Making of America materials to teach them history and told me she'd been to two of the center's seminars before, one with the kids. "I'm very concerned with the future of my children," she explained, which was why she had gone to several Tea Party rallies as well. She'd learned about the seminars from Salisbury, who attends her Mormon church.
After a few more digressions about his charter-school students and their mastery of the Constitution, Dalton ended just as he had started. Fighting back tears, he implored the audience to remember: "More powerful than any invading army is an idea, and freedom is an idea whose time has come."