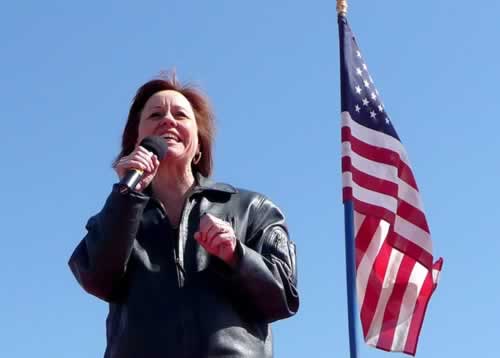 Facts matter:
Sign up
for the free
Mother Jones Daily
newsletter.
Support
our nonprofit reporting.
Subscribe
to our print magazine.
Sharron Angle, the Tea Party favorite in Nevada's three-way Republican primary, is mounting an anti-establishment, Rand Paul-esque charge in her state's June 8 primary vote. Between late April and mid-May, Angle surged in the polls, from 13 percentage points to 25, according to R2000/Daily Kos and Las Vegas Review-Journal polling data. Meanwhile, the front-runner and GOP choice in that primary, former state GOP chairwoman Sue Lowden, dropped from 38 points to 30, and the third main candidate, Danny Tarkanian, dipped from 28 points to 22.
A former Nevada assemblywoman, Angle has seized on a handful of mistakes by Lowden, whose comfortable lead in the primary has all but eroded. Adopting the wildcard, Tea Party mantle, Angle is now bashing Lowden's fiscal record, claiming her opponent raised taxes and supported state spending hikes. Angle also unleashed the ultimate of political insults in the hard-hit Silver State, claiming Lowden—gasp!—"backed Harry Reid for years."
Whether Angle can overcome Lowden in the final days before the primary—Angle's raised a mere $945,000 for her campaign, less than half of Lowden's war chest—depends on how much she can paint Lowden as another political insider wedded to an incredibly unpopular Republican Party. Here's Angle's most recent ad attempting to do just that: