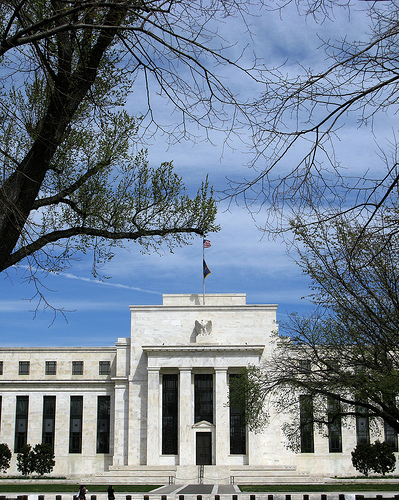 Fight disinformation:
Sign up
for the free
Mother Jones Daily
newsletter and follow the news that matters.
Sen. Bernie Sanders (I-Vt.), the lead sponsor of a new rule to audit the Federal Reserve, is running up against some formidable opposition from nearly all sides. Most notably, Sanders told the Huffington Post that his provision, which has a good chance of winning 60 or more votes in the Senate, is opposed by the White House, and that chief of staff Rahm Emanuel has pushing back against the Fed audit. "I think momentum is with us," Sanders told HuffPo. "But I've gotta tell you, that on this amendment, you're taking on all of Wall Street, you're taking on the Fed, obviously, and unfortunately you seem to be taking on the White House, as well. And that's a tough group to beat."
The amendment would allow the Government Accountabililty Office (GAO) unprecedented access to the Fed's records, and would require the opaque, hybrid public-private institution to disclose who received the $2 trillion given out in loans by the Fed since the onset of the financial crisis. To one's surprise, Fed chairman Ben Bernanke and his acolytes have vehemently opposed the provision, saying it would taint the Fed's decision-making with politics and partisanship.
Sanders, though, appears to have considerable support amongst his colleagues in the Senate. A similar provision to audit the Fed, the Sanders-Webb-Bunning-Feingold Amendment, won 59 votes in April 2009, and eight of the "No"s on that 2009 vote have signed onto Sanders' current amendment. And considering that the House passed a similar amendment last year, and that right now Sanders' amendment has the support of 69 senators, it looks as if the white-haired Vermont independent might get his Fed audit after all. The amendment could come up for a vote as early as today.