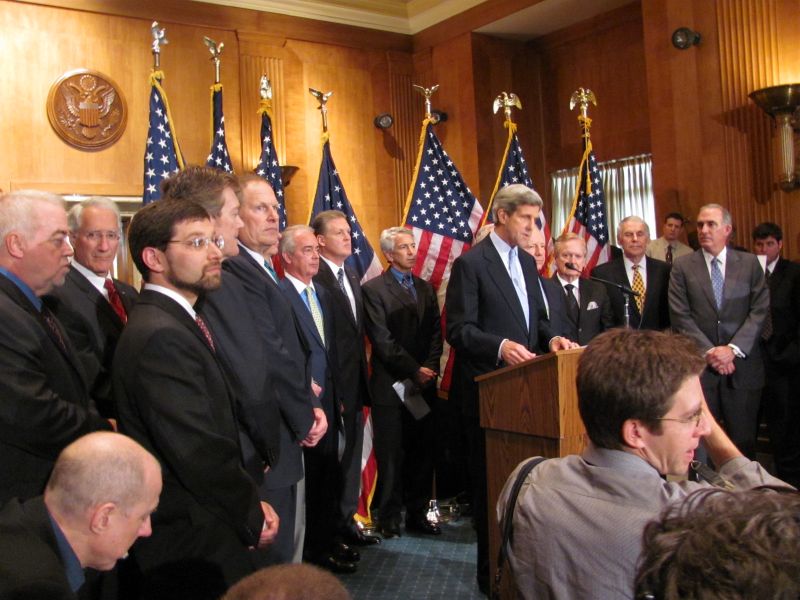 When Sens. John Kerry and Joe Lieberman and the now-out-of-the-picture Lindsey Graham were working on their climate legislation, they made a big deal of courting support from the biggest foes of such a policy. They held numerous meetings with groups like the Chamber of Commerce and the American Petroleum Institute, and Kerry made much of the anticipated support from three large oil companies: Shell, ConnocoPhillips, and BP. A number of business and environmental leaders stood with Kerry and Lieberman at yesterday's roll out (although the oil companies were laying low.) Did all the senators' courting pay off? Well, not exactly. The reactions from various interests groups to the long-awaited bill were lukewarm at best.
The Chamber's chief lobbyist, Bruce Josten, praised the senators for "their work to constructively engage the business community on these issues," but maintained that the bill is still "a work in progress." American Petroleum Institute president Jack Gerard said the bill "reflects the complex relationship between the U.S. energy system and greenhouse gas emissions which come from every car, home, factory and farm in America." He added the group would need more time to consider the full bill before endorsing it.
And how about the environmentalists? A coalition of 22 environmental groups, including the Environmental Defense Fund, Sierra Club, and the Natural Resources Defense Council (NRDC), issued a statement praising Kerry and Lieberman for releasing a bill that "jumpstarts the Senate debate over America's energy future." But individual groups expressed concerns about some provisions. Larry Schweiger, head of the National Wildlife Federation said the offshore provisions are "a beginning, but we have to improve, learn from what happened" in the Gulf.
Frances Beinecke, president of NRDC, said it is "too soon to say where NRDC stands on every aspect of the bill." But Beinecke criticized both the offshore drilling provisions and the nuclear incentives, calling the $54 billion in loan guarantees "excessive" and the proposed streamlining of licensing for new plants "ill-advised."
Leftier green groups were even more critical. Friends of the Earth called it a "dangerous" bill that "threatens to stymie the fight against global warming." The Center for Biological Diversity called the bill "a disaster," and Greenpeace called it a "dirty energy bailout bill."
Wednesday's release was a discussion draft, meaning there may be changes between now and when (or if) the bill makes it to the floor. Expect plenty of effort from all sides to shape it in the coming weeks.