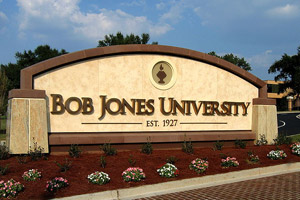 Fight disinformation:
Sign up
for the free
Mother Jones Daily
newsletter and follow the news that matters.
Greenville, South Carolina—Some of you may know Bob Jones University as the fun-loving school that briefly held the Guinness World Record for largest kazoo ensemble. More likely, though, you know it as a bastion of the far right: For decades, big-shot conservative politicians from Ronald Reagan to George W. Bush have traveled to the self-described "fundamentalist" outpost to pander to the Christian right, all the while pleading ignorance to its institutional opposition to Catholicism ("a Satanic counterfeit") and its longstanding ban on interracial dating.
The dating policy was reversed in 2000 (provided you have parental consent and a chaperone, of course), but the school still has a pretty detailed personal conduct code, which bans, among other things, phones that have Internet access, "contemporary Christian music," Gmail, and "posters of movie and music stars." I stopped by BJU on Tuesday hoping to speak with some current students about what brought them there (the art program is supposed to be excellent), how they like the school, and what they make of the school's not-so-distant history. But, alas, when I approached a group of undergrads, they broke the bad news: "We're not technically allowed to talk to reporters unless we have the school's permission," as one of them explained.
So much for that. Instead, I ended up walking across campus, checking out the Renaissance art museum (quite impressive, in addition to being the only place at BJU where you'll find Catholics); the Shakespeare-centric theater; and the memorial to the school's namesake, which places him in the tradition of transcendent historical figures like George Whitefield and Billy Sunday.
BJU always insisted that the dating policy had nothing to do with delusions of racial superiority; instead, it was fueled by a paranoia over a one-world society—which, as any student of the Left Behind series knows, is the mark of Satan and the End of Days. The more people of different complexions intermingle, the fewer borders there will be between Lucifer and his ultimate goal. So much for "divide and conquer."
I'm not sure this explanation actually makes the policy any more palatable; if anything, I'd say racial fears become a lot more dangerous when they're enveloped into a grand, unifying theory of how the world is going to end. But it was consistent with the school's general message as articulated by its leaders, its rules for student life, and its areas of study: Don't trust anything you hear off campus. At the University bookstore (located right next door to "Great Awakenings" coffee shop), for instance, pamphlets about the Freemasons and the "the facts" about the Roman Catholic church are sprinkled in amongst anti-Darwin screeds and American exceptionalist tracts.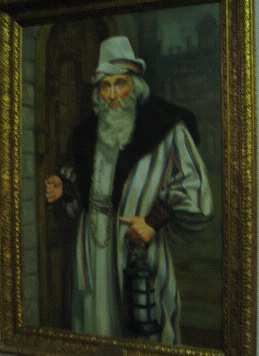 Even if politicians don't detour to Greenville as frequently as they used to, they're still very much speaking to Bob Jones when they talk about global warming, or about nuclear Iran, or about the need (or lack thereof) for diplomacy, or about the coming collapse of American currency: As the Tea Party movement ably demonstrates, BJU-style fears of global government are a driving force behind today's conservative fearmongering. Bob Jones lost the battle, but in some sense, the bigger struggle is ongoing.
Besides, according to Pew, 37 percent of Americans would still have "some problem" with a family member marrying someone of a different race. In 2010. The institution may have been broken, but the prejudice hasn't disappeared.
Front page image: John Foxe/Wikimedia.