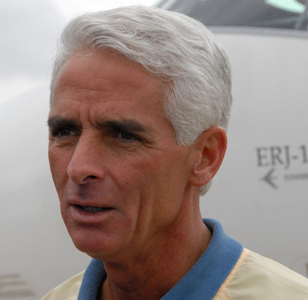 Fight disinformation:
Sign up
for the free
Mother Jones Daily
newsletter and follow the news that matters.
Despite his best efforts to distance himself from the Florida GOP's disgraced former chairman, Charlie Crist, governor and US Senate candidate, just can't shake off Jim Greer's long tail of controversy. The latest twist in Greer's saga, who as party chairman is alleged to have stolen $200,000 in GOP funds and was arrested in June, is this: A Florida lobbyist and state GOP member said she'd heard that, at a supposedly men-only fundraiser in the Bahamas for the GOP, "women were involved and paid," the St. Petersburg Times reported. Having attended the fundraiser, Crist called the claims "absurdly false." Regardless of who's right and wrong, the allegations are nonetheless a new nightmare for Crist.
Crist, an independent candidate for the US Senate, abandoned the Republican Party in April, saying the party had become too right-wing for him. Outsiders, on the other hand, saw Crist's jump as a move to avoid losing to conservative Marco Rubio in a Republican primary. Since becoming an independent, and looking for support (and money) from both Democrats and Republicans, Crist has opened a modest lead over Rubio and Democratic also-ran Rep. Kendrick Meek (D-Fl.). Nonetheless, revelations about Greer, who headed the Florida GOP from 2007 to 2010, continue to threaten Crist's run for the Senate.
Worse yet for Crist is the news that Greer's trial will open in October—just weeks before election day. If you're Charlie Crist, you couldn't ask for more unfortunate timing. We'll see in the coming months if Crist can raise enough money and run enough ads to fully distance himself from Greer and the walking ethics nightmare that's become the Florida GOP.