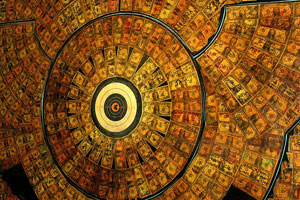 Fight disinformation:
Sign up
for the free
Mother Jones Daily
newsletter and follow the news that matters.
The big Friday news dump this week is the Obama administration's projection that the federal budget deficit will reach a record $1.47 trillion this fiscal year. That is, the government will spend $1.47 trillion more than it takes in this fiscal year. There are a few things you should remember when you read about this:
The current deficit can be attributed almost entirely to the effects of the economic downturn (reduced tax revenue, increased transfer payments), the Bush tax cuts, and the wars in Iraq and Afghanistan. David Leonhardt and the Center for Budget and Policy Priorities both have good articles and charts on this.
The $1.47 trillion number is actually slightly better than the White House's February prediction. But the forecast for next year looks worse.
Despite stimulus spending, which most independent experts believe improved the job picture, there is still massive unemployment in the United States.
The median duration of unemployment is at its highest in 50 years.
Liberals and conservatives will be arguing about what all this joblessness means. Derek Thompson explains: "Does it mean we must increase the duration of unemployment benefits to protect this new class of unemployed, or does it mean we need to stop subsidizing joblessness? Does it mean we need to expand federal retraining programs, or does it mean federal retraining programs aren't working? Does it mean we need more stimulus, more state aid, more infrastructure projects, more public works…or does it mean it's time to stop everything, stand back, and let business be business?" (Liberals go for the first option in each pairing.) This argument can be summed up simply as stimulus vs. austerity. Right now, stimulus seems to be fighting a losing battle.
Conservatives don't have a record of caring about or reducing the budget deficit. They do have a record of caring about and reducing taxes on rich people.
We spend almost as much on our military as the rest of the world combined. (A lot of the other countries that are spending big bucks are our allies.) If you include non-Pentagon defense-related expenditures, US defense spending in fiscal year 2010 will be somewhere between $880 billion and $1 trillion—even more if you include the interest we're paying on debt from past wars. Even if you strip out all that stuff, we're going to be spending north of $700 billion on the Pentagon and the wars in Iraq and Afghanistan next year.
Long-term deficits are not the same as single-year deficits, and they have different causes. Our projected long-term deficits are driven almost entirely by the rapidly increasing cost of health care. (We're talking about increases driven by things other than the aging of the population.) If we could hold our health care costs at levels comparable to other countries', our long-term deficits would basically disappear. You can see this for yourself by using the Center for Economic and Policy Research's health care budget deficit calculator.
Social Security is not the problem.