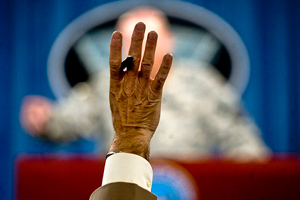 Fight disinformation:
Sign up
for the free
Mother Jones Daily
newsletter and follow the news that matters.
It's shocking that progressive journalists have progressive ideas and share them with other progressive journalists.
Wait, no, it's not? Then I suppose I am misreading the series of stories in the conservative Daily Caller that have revealed the exchanges of the now-defunct Journolist, a supposedly off-the-record listserv for nearly 500 journalists and policy wonks, most of whom were progressive. (My deep dark confession: I was a member, mainly a lurker; I haven't posted anything in years. And, truth be told, when I did post it usually was to promote a column or article I had written, seeking links.) The Daily Caller and other conservatives have depicted the Journolist gang as practically a secret society coordinating the so-called liberal line in the media. But an ex-Daily Caller reporter was part of the group—which has gone unreported on by the Caller.
Sarah Palin today called Journolist participants "sick puppies" and has pointed to the Daily Caller's articles as proof that anti-free-speech libs control the mainstream media and have subverted it for their own nefarious purposes. But that's a foolish analysis, for equating the Journolist group—predominantly self-identified liberals writing or working for self-identified liberal outfits—with the MSM is absurd. The listserv was mainly a fun place for folks to kibbitz, trade ideas, and argue over published pieces. Think of it as a bar for journalists—without the booze, but with the occassional brawl. Sure, some participants wrote intemperate comments, just as they would mouth off in a tavern with friends, colleagues, or antagonists. Journalists—liberal and conservatives—do hold strong opinions and often are not shy about sharing. While I do not begrudge the Daily Caller the fun copy it has obtained by gaining access to Journolist archives—I would certainly write stories about a similar conservative listserv if I could—this is not an instance when a conspiracy has been exposed (especially since Politico and others have already written about the existence of Journolist).
The latest Journolist piece hit close to home, for it features a headline based on a Journolist comment made by Nick Baumann, a reporter in Mother Jones' Washington, DC, bureau. (See Nick's take on the Journolist flap here.) The article zeroes in on the hours following John McCain's announcement that Sarah Palin would be his running mate. Journolist was exploding with comments from members wondering what was behind this odd selection and what was the best way to write about it—and to attack it. (Hey, they're liberals.) In years past, this sort of conversation would have happened in a restaurant or hotel lobby—presumably the bar next to the lobby—where reporters would gather. In this instance, it occurred electronically. I believe that at the time I was in a rented house in St. Paul—the site of the GOP convention—with Baumann and Jonathan Stein, another Mother Jones reporter (now a grad student in California). Like good journalists, we each immediately began to contact people (in Alaska and elsewhere) who could explain this choice or who could tell us anything interesting about Palin. While doing this, Nick and Jonathan participated in the ongoing Journolist conversation about Palin.
Jonathan, according to the Daily Caller, sent in a note seconding a suggestion that McCain's VP selection be described as "sexist"—for McCain was presumably assuming he could win over women merely by choosing a woman to be his veep candidate. Stein noted that "if enough people–people on this list?—write that the pick is sexist, you'll have the networks debating it for days." Nick followed up with this message: "Say it with me: 'Classic GOP Tokenism.'" That last phrase is the headline of the piece.
Other Journolist participants had different ideas about how to write about Palin. Several listserv members who published articles—including Joe Klein of Time magazine–quickly shared links to their own pieces. Nick ended up posting an article that reflected his Journolist remarks.
He noted: "The selection of Palin smacks of tokenism. Every four years, the Republican party trots out its few non-white, non-male leaders for the Republican National Convention. Many get prime speaking spots. Apparently Sarah Palin gets the Vice-Presidential nomination. The pick is clearly partly directed at disaffected Hillary voters with the idea that simply putting a woman on the ticket will win their votes."
Nick was not following any party line. We discussed the piece before he posted it, and I thought it was a fine point to make. Whether or not it had been discussed on a listserv made no difference to us. (I'm sure I had no inkling about the Journolist conversation at the time.) Reporters often talk about their ideas with others before writing. It can be useful to obtain a vetting before proceeding. I suppose if several of Nick's peers on the listserv had said this was a dumb idea, he might have thought twice and moved on to something else. But maybe not.
As reporters for Mother Jones—a progressive publication and website—Nick and Jonathan were free to express opinions in private and in print. It might have been a touch hubristic for Jonathan to believe that the liberal columnists on Journolist could establish the terms of the mainstream media conversation about Palin. But no doubt about it: when we publish an exposé revealing new information or an article with a strong viewpoint, we hope that others in the media pick up on the ideas and information. We do want to affect the national debate. Just about every journalist does.
I am certain that during the 2008 campaign, conservative journalists and advocates—either through emails, conversations, or smoke signals—talked among themselves about what were the most effective lines of attack on Barack Obama (to focus on Jeremiah Wright or not), what could be done (that is, written) to encourage McCain to be a better campaigner, and perhaps even how to react to the Palin pick. Anything wrong with that? No. If I had those emails, I'd surely mine them for a story or two. Not to say this is shocking—opinion journalists have opinions and take sides–but to reveal how things work.
Journolist was a community, not a conspiracy. It did not issue directives. But some participants did see it as a mechanism for trying to increase the overall influence of this community—which occasionally led to some mighty big talk full of high hopes. But there were no marching orders and no coordination. (Can a journalist like Spencer Ackerman be coordinated?) Believing wrongly that comments made to a group of 400 or so people could remain off the record, some participants let their hair down too much. (See David Weigel.)
But that's hardly a big sin in the media world. (Right now, I'm thinking about how mainstream and conservative journalists handled the run-up to the Iraq war.)
Journolist has been shut down by founder Ezra Klein. Some Journolist refugees have started up Cabalist. (I'm not on it—yet.) But we also have Twitter, and much of the same conversation continues there—in 140 characters or less. It may be good that this dialogue occurs in the public, for that does encourage participants to think an extra second or two before punching the send button. And in this age of hyper-media, an extra second of thought can go a long way. For the more sensitive topics, there's always person-to-person email, the telephone, and, of course, the bars.