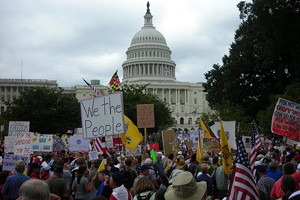 Fight disinformation:
Sign up
for the free
Mother Jones Daily
newsletter and follow the news that matters.
The tea party movement is not just a political juggernaut—it's also become a big business. That quickly became clear following last September's unexpectedly enormous rally in Washington organized by Dick Armey's FreedomWorks, the event that helped put the movement on the map. With crowd estimates ranging from 75,000 to 2 million, the rally was such a hit that conservative activists are planning a sequel this year. A bunch of them actually. And these competing events have led to confusion and infighting among the tea party faithful. The conflict has reached such a pitch that Glenn Beck weighed in with a plea for unity on his radio show Thursday. "I don't care who started it," he lectured. "We must come together."
If nothing else, conservative activists will have plenty of opportunities this summer to publicly vent their frustrations with the Obama administration. On the afternoon of September 12, FreedomWorks plans a repeat of last year's march on the National Mall. Another group with ties to Beck's National 9.12 Project has decided to get in on the action as well, putting together a three-day extravaganza that weekend that includes a "liberty XPO" at a swank DC hotel and a march on the Mall on the 9th anniversary of 9/11. Then there's the "Restoring Honor" spectacle planned by Beck himself for the steps of the Lincoln Memorial on August 28, on the 47th anniversary of Martin Luther King Jr.'s "I Have a Dream" speech on the same spot. That rally will be followed the next day by yet another protest march, this one sponsored by the Tea Party Patriots.
Despite the many offerings in the works, this may be one case where competition won't lead to a better product. Some activists fear that the smorgasbord of events—and the fighting about them—will dilute the impact of a single rally and divert precious resources away from where they need to be: in local elections. Bemoaning all the dissention, Darla Dawald, director of ResistNet, a social networking site for "patriots" recently lamented that "the movement is caught up in a tsunami of egos, nasty attitudes, manipulation, criticism, and pseudo leaders."
The march controversy got its start last year, when tea party groups stunned the Washington establishment by arriving en masse for FreedomWorks' mega rally on the Capitol lawn. The event landed with such impact that a couple of days after the march, FreedomWorks' state and federal campaign director Brendan Steinhauser applied to the US Park Service for a permit to do it all over again in 2010. What he didn't know was that other people had the same idea, namely activists associated with the 9.12 Project Beck started last year, when he called on viewers to launch a new conservative movement. (Hundreds of local 9.12 groups sprung up as a result.)
Among those activists was Beck's ex-sister-in-law and the administrator of his 9.12 Project, Yvonne Donnelly. She sent an emissary to the Park Service on the first business day after last year's March to apply for a Mall permit for the entire weekend of Sept. 11, 2010. Then, in November, Patrick Jenkins, the president of the National 9.12 Project, created a new organization called Unite in Action to manage the newly christened "March on DC" and related events. UIA claims to be an umbrella group for a host of "liberty" organizations, including the militant Oath Keepers, Beck's 9.12 Project, ResistNet, and others.
Its plans for the "March on DC" weekend are grand. The three-day extravaganza "by the people and for the people" has all the trappings of a corporate trade show, and for good reason. Among the organizers is Christine Drawdy, who owns a Florida-based company called One-Step Promotions & Incentives, which specializes in trade shows and travel promotions. According to UIA, its show is "modeled after conservative political conferences but with a purely grassroots flare." Yet the group is hardly charging grassroots prices. The cost to host an event during the expo starts at $30,000. Renting a booth goes for anywhere from $1500 to $7700. Entry to the event itself runs $50, though a premium package allowing access to VIP receptions and banquets is a steep $250.
For all its corporate veneer, the fledgling UIA nonprofit appears to be on rather shaky footing. Jenkins incorporated UIA in Florida as a 501 (c)(4), a tax-exempt political organization, meaning that donations to the group aren't tax deductible. The group missed the May 1 filing deadline for its annual report. According to the state division of corporations, it's in jeopardy of losing its incorporation status as a result.
Even as the group has been heavily soliciting donations ("donate" buttons dominate the "March on DC" homepage), an IRS spokesman said he could not confirm its nonprofit status, meaning that UIA may have applied for 501 (c) (4) status, but that it has either not been granted or is still being reviewed. "We have made all filings required by the IRS consistent with 501(c)(4) status," insisted Jerry Thompson, UIA's treasurer legal counsel, in an email. Meanwhile, the group's president, Stephani Scruggs, declined to say how much money UIA has raised so far.
Particularly problematic for UIA, and potentially troubling to donors and would-be "March on DC" attendees, is the fact that the group does not yet have an official permit for its march. While anyone can apply to hold an event on the Mall, and the Park Service doesn't charge much beyond a $50 application fee if organizers can show that the event has a First Amendment component, arranging a march on the Mall is no easy—or cheap—feat. Organizers still have to present the Park Service with comprehensive site plan and demonstrate they have the considerable finances to pay for all the logistics: Porta Potties, emergency medical tents, sound systems, etc. When told UIA is actively promoting its event and encouraging people to make travel arrangements to come to DC, without a valid permit in hand, a Park Service spokesman told me, "That's a pretty big gamble."
Meanwhile, it's unclear how many people are likely to show up. UIA's weekend lineup is decidedly short on the kind of big-name VIPs who help draw a crowd. While attendees of the FreedomWorks march will get a pep talk from tea party favorite Rep. Michele Bachmann (R-Minn.) and hear from potential GOP presidential candidate Rep. Mike Pence (R-Ind.), UIA has yet to book any marquee speakers. So far on the agenda for the weekend is a seminar by the National Center for Constitutional Studies, a group founded by Beck's favorite Mormon constitutional historian, Cleon Skousen, author of The 5,000 Year Leap. There's also a talk dubbed "Foreign Aid: Enslaving Nations" by Tatiana Milne, a former student at George Wythe University, the unaccredited Utah college founded by Skousen's Mormon acolytes, who did a stint as a Mormon missionary in Latvia. UIA also says its event will feature a ton of "conservative moms."
Conspicuously absent from the lineup is anyone or any organization representing the families and victims of 9/11, despite the fact that the march will take place on the anniversary of the attacks. Scruggs, the UIA president, said in an email:
"We are in communication with a lot of these families and to protect their privacy and respect the sacred nature of this event, we have not yet decided whether we will publically release the names of the victim's families who are participating until the day of the event. We appreciate you respecting their privacy as well."
The existence of two different organizations planning two different marches in DC the weekend of September 12 has left many tea party activists—many of whom attended last year's march—scratching their heads. Andrew Ian Dodge, the Maine coordinator and advisor to the board of the Tea Party Patriots, which is co-sponsoring the 9/12 march with FreedomWorks, says that many tea party activists have been complaining. "They're asking, 'why are there two? Why are they not working together?' I'm involved and I'm confused," he says with a laugh.
The confusion has only been enhanced by UIA, whose website and communications have been vague about who is in charge. "There are huge fights going on in the 'tea party' universe on who got which permit when, who is funded by whom, who is sponsoring what," Iris Scheibl, a member of the South Florida 9-12 group, wrote on the group's site this spring. She noted that the "March on DC" site "shows pictures from last year's event—altho' as far as I know—"Unite in Action" had no part in that event."
Indeed, few of UIA's leaders had any involvement in organizing last year's 9/12 march, according to Steinhauser. Yet that hasn't stopped UIA from leading people to believe it was the group behind the rally. In February, UIA issued a press release saying, "While few can logically deny that the September 12th 2009 'Taxpayers March on DC' was a huge success, organizers for the 2010 event are redesigning the format, planning early and this year they promise to deliver a message to Washington DC that both houses of Congress and the Administration, Democrat, Republican or Independent, will not be able to ignore." Such comments have only lent credence to suspicions among tea partiers that UIA is trying to stealthily capitalize on last year's march success to boost its own fortunes (and perhaps finances as well).
None of this bodes well for the prospects of another huge tea party march in DC this fall. Nor does the evidence that tea partiers may be rallied out. Tea Party Nation, which made headlines earlier this year for landing Sarah Palin as a keynote speaker for a convention in Tennessee, was supposed to hold another "unity" event in Las Vegas this month. The event was cancelled at the last minute, presumably for lack of interest. But there's another reason to believe turnout for the September rallies could be underwhelming.
Part of last year's success stemmed from heavy promotion by Glenn Beck. This year, though, he's lending his star power to promote his "Restoring Honor" show with Sarah Palin . Rather than working with the group he helped spawn, he may well help suck the wind out of the "March on DC" weekend. "Some folks just can't afford to go [to DC] twice," says South Florida 9.12 Project member Fred Scheibl. Many conservative activists may have to choose: Dick Armey, UIA, and a bunch of conservative moms or Beck and Sarah Palin? That seems like an easy one.