Fight disinformation:
Sign up
for the free
Mother Jones Daily
newsletter and follow the news that matters.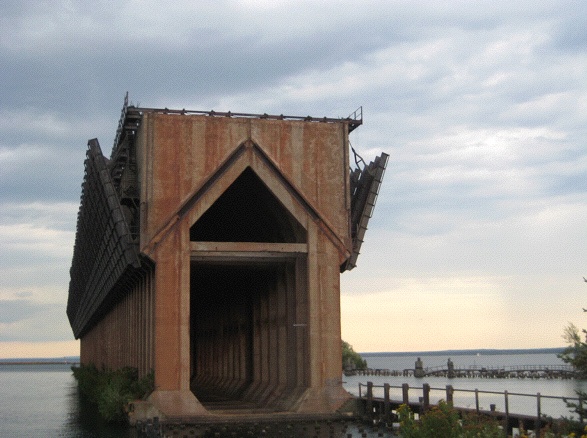 Marquette, Michigan—My first impression upon driving into Michigan's Upper Peninsula was that this is what Alaska must feel like. Quite a statement, to be sure, coming from someone who's never set foot in Alaska. But there's something undeniably different about the place.
Part of it's visual: You can drive for 40 minutes without seeing a house let alone a town, and because the virgin White Pine forests of the UP (as it's known) were basically clear-cut over the last century-and-a-half, the younger trees look, at least from the road, as if someone has gone into Photoshop and scaled them down but left the sky as is. In other words, you feel higher up, not only in relation to the Mitten of lower Michigan, but relative to the ground itself.
But there's a cultural element, too. For most of its existence, the UP has been isolated from the rest of the state, bordered by three of the Great Lakes plus Wisconsin, and accessible to the rest of Michigan only by boat until the late 1950s when someone finally built a bridge (and Yoopers, as natives of the UP are known, immediately began talking about blowing it up). Its industries are iron, copper, timber, and paper—and that's pretty much it;  as Mike Delke, a woodcarver, told me at the UP State Fair in Escanaba, "You hear a lot of talk about depressed economic areas now. This has been a depressed economic area from the beginning."
The Upper Peninsula has about as much in common with Detroit as Manhattan does to Manhattan, Kansas. And that's why, for the last 150 or so years, Yoopers have talked about blowing up the bridge, breaking away, and starting a state of their own called "Superior."
"That's always been something on the back of people's mind," says Skip DuFour, president of the Upper Peninsula Steam & Gas Engine Association and a resident of the UP for 40 years. "The practicality of that is probably not realistic. I think where that comes from is that the lower peninsula gets a lot more favorable treatment than the upper peninsula. One example would be if you jump on I-75 and drive over the Mackinaw Bridge to Toledo, and see how many rest areas you see. They're everywhere."
"And then take route 2 from Ironwood to Menominee—" He takes off his hat, emblazoned with the outline of the UP, and traces the route. "If you go from here to here on US-2, which is our equivalent to 75, you'll find one restroom.
"They probably feel that because we're Yoopers, we don't need modern restrooms. We can just use trees."
Are they right?
"It works!"
George Potvin, a blacksmith, shares Skip's frustration, if not the solution. He's French-Canadian by blood, but his Yooper roots (pronounced "ruts") date back to the turn of the last century. George built his first anvil when he was 13, out of a broken railroad track.
"My feelings are, I would like to see it be a state, but the amount of people you have, the amount of taxes, you wouldn't have what you have now," he says. He shares Skip's skepticism, though, of the UP's ability to co-exist with the Mitten. George's fear is that someone (he suggests the UN) will adopt a policy called "pre-settlement," which would restore the Upper Peninsula to its natural state, pre-Iron Range, pre-hunting camps, pre-Yoopers. Everyone could be forced out.
"This was all explained to me by a forester. It's not gospel, but you really wonder, especially the way the government is going on now, with the government taking over everything."
Sounds like a case for Jesse Ventura. George is generally skeptical of politicians. He tells me we should just kick out all of the incumbents—especially his local congressman, Bart Stupak—and although he's generally skeptical of Republicans, he's looking forward to 2012. "But you know," he says, "it'll all work out no matter what. It always does. I'll tell you something which you may not like to hear, but, we got Reagan because of Carter, you know?"*
With everyone I talk to, the second-class sentiment is a constant. "We're lower Michigan's playground," says Mike Delke, the woodcarver. "They'd be happy if when they crossed the Mackinaw Bridge, this was all woods."
As a whole, the state of Superior seems like a terrible idea. Not because Yoopers don't have a unique culture or feel politically disconnected—they totally check out on both counts. But because, in addition to pursuing revenue-boosting measures that'd make Delaware feel like a little slice of heaven, its admission would make the Senate even more un-democratic—two senators representing, essentially, the population of Anchorage. And that's before you entertain the notion of Governor Bart Stupak. There's no denying the feeling, though, that when you enter the UP, you've entered someplace altogether different from wherever you've been before.
The Marquette County Historical Museum recently asked a class of grade-schoolers what it means to be a Yooper. The responses capture the Superior state of mind with characteristic bluntness and incongruity: "Just because you're a Yooper, doesn't mean you live out in the middle of nowhere. You could live in Escanaba, Gladstone, Marquette, Gwinn, and Negaunee"; "The best part of being a Yooper is that…wherever you go, the sidewalk isn't two feet from your front door"; "When I told my friends I was moving up here they thought I was going to turn into a stupid hillbilly. That was their definition of a Yooper."
And here, to bring it all back home, is sixth-grader, and future poet laureate of the state of Superior, Morgan Bruce: "Some Yoopers have farms and some don't. Some wear suits to work. Yoopers are like any other people, but a Yooper is a Yooper and will be forever."
*George also goes on to tell me how, when his time on Earth has passed, he'd like to be shot out of a cannon—his cannon—in lieu of a proper burial. And that, I think we can all agree, is much cooler.