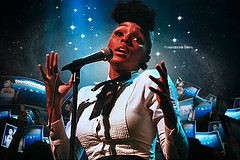 Fight disinformation:
Sign up
for the free
Mother Jones Daily
newsletter and follow the news that matters.
Lately I've envied the tweens. I covet their pop stars, who are clearly superior to the bland barbies that I grew up with. When I was 13—the age that I most cared about these things—it was all Brittany and Mandy and Jessica. Yes, there were a few bright spots, but now it seems there's actually a critical mass of talented, rebellious, gender-norm-defying women in pop. When you're 13, and don't yet know how to find music beyond what your parents listen to and what MTV says is cool (another point of envy, then: Pandora), a readily available stream of not-lame divas is pretty significant. So here's a list of the best girl-friendly pop stars out there today:
1) Robyn. The Swedish electropop singer's dancing is kinda bad. Stomping, fun, alone-in-your-room bad. With Robyn, that's the point: Whether it's her crooked set of pre-braces teeth, or her weirdo geometric clothes and clashing colors, she treads the line between sexy and ugly and just keeps treading that line. In short, she's the perfect pop star for an awkward adolescent.
2) Janelle Monáe. Does your favorite 12-year-old love Eragon, Ender's Game, Star Wars fan fiction, LARPing? Monáe's an artist for her to geek out on. She's sci-fi put to soul, rock, and hip hop. In fact, it's hard to find her wearing anything but either a tux or robot gear. The Kansas City native's first album, Metropolis, was inspired by the 1927 German silent film. Since then, Monáe has developed an entire hip hopera based on the story of Cindi Mayweather, a messianic ArchAndriod sent to free the citizens of Metropolis from the dystopian secret society oppressing them. Monáe, who co-founded her own art society before she made it big, seems to hold a similar mission in real life: "Creativity, imagination and beauty still matter," she wrote in her studio's blog. "People the world over have the same concerns: they love wonder. And they love a good story, a good melody, products that are put together with care and engineered to heal the soul." Did I mention her great dance moves?
3) Miranda Lambert. If a girl's gonna hear way too many heartache songs for her own good—and she's gonna—much better that they're Lambert's angry, set fire to the culprit variety. In Kerosene, the country star smiles prettily at the camera and drags a gas can away from some cheatin' bastard's tin-roof house. Another song has her crooning, "I'm gonna show him what little girls are made of/Gunpowder and lead." Lambert has also beenadmirably principled about her music: At 16, she recorded a demo in Nashville but hated its "cheesy" sound. She returned home to Texas and learned guitar so she could write her own stuff. Girls Rock camps would be proud.
4) M.I.A. For the budding activist tween. M.I.A.'s politics are controversial. She moved to London with her mother and siblings as a refugee from Sri Lanka's civil war in the 1980s, and her songs don't let you forget it. Gunshots and bomb blasts pepper her refrains; her lyrics are militant. But at least they stray from that evergreen pop topic, love, a reminder to young girls that there is actually other important stuff out there. And yes, you can dance to songs about it, too.
5) Beyoncé. Well, duh. Knowles has been around since the dark days of divadom, de-ditzifying the airwaves with Destiny's Child tunes like Survivor and Bootylicious. She's done the same as a solo artist. When the Jessicas and the Brittanies self imploded, Beyoncé kept her cool. Now, she's a veritable pop matriarch—the next Michael Jackson, some speculate. She's classy, innovative, not stick-skinny, and has an impressive work ethic. My fresh-of-out-middle-school cousin sums it up nicely: "Beyoncé's a fantastic role model," she writes in a text. "My mom agrees."
6) Lady Gaga. Role model? Debatable. It's not entirely proper to flip off a stadium full of baseball fans, nor is it all that ladylike to talk about losing one's power through one's lady-parts. But bubbles, armadillo shoes, monsters! Gaga has an imagination as mad as any middle school girl's, and an equally vibrant sense of play. For that matter, what pop star has ever, ever, incorporated sandwich-making into a dance? (Gonna be okay, body-conscious tweens, just dance!) At times, the machine-gun clad singer can sound positively girlish herself. "I'm just a girl from New York City who decided to do this, after all," she told New York Magazine earlier this year. "Rule the world! What's life worth living if you're not going to rule it?"