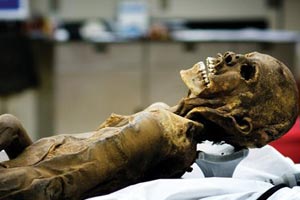 Fight disinformation:
Sign up
for the free
Mother Jones Daily
newsletter and follow the news that matters.
Last month, the Los Angeles Times reported that so far this year, the bodies of 170 border crossers have been found in Pima County, Arizona. That means 2010's body count might break recent records: By the end of 2007, 218 bodies had been found.
Of the 170 bodies that have turned up so far this year, two thirds were anonymous. The identification of migrants' corpses is the subject of Andi McDaniel's "The Juan Doe Problem" in the September/October 2010 issue of Mother Jones. McDaniel writes:
A dead body without a name can't be buried, not in good conscience, at least, until efforts to identify it seem completely hopeless. And each person who deals with border bodies has a different definition of hopeless. That's the Juan Doe problem.
McDaniel spent time with the people who attempt to put names to border crossers' remains—which are often little more than piles of bones by the time they are found. She hung out with border agents who recover corpses in the desert, talked to technicians at the office of the Pima County Medical Examiner, and visited the cemetery that is the final resting place for unidentified bodies.
McDaniel also interviewed Chelsey Juarez, a UC-Santa Cruz grad student in physical anthropology who, for the past several years, has been analyzing teeth from Mexico to figure out how their chemical makeup varies by region. She's used her data to create a map, which she hopes medical examiners will one day use for clues to where unidentified crossers might have come from.
Read "The Juan Doe Problem" here, and check out the accompanying photoessay by Matt Nager here.