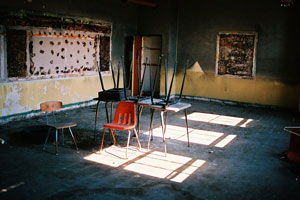 Fight disinformation:
Sign up
for the free
Mother Jones Daily
newsletter and follow the news that matters.
It's fairly common for conservative political candidates to support eliminating the federal Department of Education. But in California, tea party darling and congressional candidate David Harmer has gone further. He's advocated eliminating public schools entirely and returning education to "the way things worked through the first century of American nationhood," when educational opportunities for poor people, African-Americans, women, the disabled, and others were, to say the least, extremely limited.
Harmer, the son of former California Lt. Gov. John Harmer, could soon be taking his anti-public school views to Washington. Nate Silver, the New York Times' polling guru, gives Harmer a 54.7 percent chance of ousting two-term Democrat Jerry McNerney in California's 11th Congressional District. So far, Harmer's views on education haven't become a major issue in the race. (Dem attacks have focused on his work for a credit card company accused of predatory lending, as well as his later work for JPMorgan Chase.) But Harmer's views on education—he's referred to public schools as "socialism in education"—are far from mainstream. They don't align with those of his own party's gubernatorial candidate: In her final debate against former Gov. Jerry Brown, Meg Whitman advocated strengthening California's public schools.
That's the opposite position from the that Harmer took in 2000, when he published a lengthy op-ed in the San Francisco Chronicle titled, "Abolish the Public Schools." In that Chronicle piece, Harmer argues that "government should exit the business of running and funding schools." He contends that would allow for "quantum leaps in educational quality and opportunity" and notes that he's simply pushing for a return to "the way things worked through the first century of American nationhood." Here's how he describes the wondrous world of early American education:
[L]iteracy levels among all classes, at least outside the South, matched or exceeded those prevailing now, and… public discourse and even tabloid content was pitched at what today would be considered a college-level audience. Schooling then was typically funded by parents or other family members responsible for the student, who paid modest tuition. If they couldn't afford it, trade guilds, benevolent associations, fraternal organizations, churches and charities helped. In this quintessentially American approach, free people acting in a free market found a variety of ways to pay for a variety of schools serving a variety of students, all without central command or control.
Yet historians say the early American education system was nothing like that. Back then, even high school was a luxury. "The high school at that point is a kind of elite form of education pretty much limited to the inner cities," says John Rury, an education historian at the University of Kansas. The rest of the system was far from comprehensive. What early schools taught, Rury says, were "very basic literacy and computational skills." Many schools only met four or five months a year, and their quality varied widely. "To get to a higher level of cognitive performance, you needed to have more teachers and longer school years, and that drove costs up," he explains. That led to modern taxpayer-supported schools. "Look around the world," says Rury. "Do we have an example of a modern, well-developed school system that operates on the model this person is advocating? We don't."
Early education was also far from inclusive. Minorities and the poor often had a lot of trouble getting schooling in early America, even in the North. "We're talking about going back to times when very, very limited numbers of people in the society had access to education, access to power, or access to elevating themselves in society," says Heather Andrea Williams, a professor at the University of North Carolina-Chapel Hill who has written a book about African-American education in early America. Many young women were also excluded or saw their schooling limited, according to MaryEllen McGuire, a former Obama administration education adviser who's now at the New America Foundation. "Education was not something that was available to most of our populace," she says. And until about 50 years ago, children with disabilities often couldn't get a proper education.
Harmer has a long history of pushing libertarian education policy. In the 1990s, he worked on education issues for the conservative Heritage Foundation, and published a book, School Choice: Why You Need It—How You Get It through the libertarian Cato Institute. He also coauthored an article in which public schooling is referred to as "socialism in education." In that piece, Harmer and coauthor Joseph Bast assure readers that they "are 100 percent committed to getting government out of the business of educating our children." They cite the "life-ruining effects of government schools" and argue for school vouchers—but only as a step toward for the eventual total elimination of the public school system.
Despite his record, Harmer's campaign is not highlighting his positions on education. His website notes that he published the book and "researched and advocated market-oriented approaches to education" at Heritage, but neither "education" nor "schools" appear on his campaign's "issues" page. Harmer's impassioned attacks on public schools are nowhere to be found on the website. When I asked his campaign to explain whether he still stands by the views expressed in the Chronicle op-ed, it didn't respond.
Harmer's is "a very extreme position," says Richard Kahlenberg, an education expert at the Century Foundation. "Most advocates of private school vouchers try to reasssure people by saying they will be a supplement to the traditional public school system and provide competition to public schools. I don't really know of serious people who advocate entirely abolishing the American public school system." Harmer, however, is apparently okay with subjecting his own children to the "life-ruining effects" of public schools: They reportedly attend public school in an upscale suburb of San Ramon. And should Harmer's master plan be carried out, his wife, Elayne, would be out of a job—she's a substitute teacher.